Details of the next Adventure coming to Hearthstone have been announced, and it's all about One Night in Karazhan.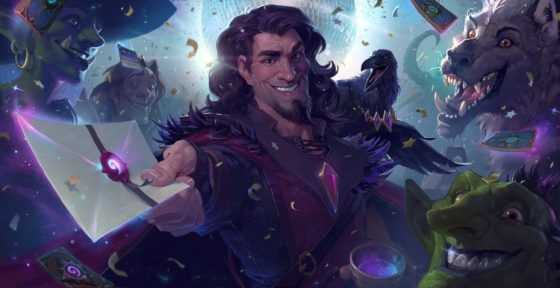 "Equip your dancing shoes and make sure you're properly attuned, because you're invited to the hottest party in the Eastern Kingdoms!" states the release, which outlines information about the new Adventure that changes the Tower of Karazhan in to a disco nightclub and Medivh in to its party-leading owner.
Players will arrive to find Medivh missing and his arcane objects running amok. With the help of his faithful butler Moroes, players will have to take back control of the festivities, find Medivh and find a moment or two to take in what the club has to offer. Features detailed in the new Adventure include the introduction of several new cards including Portal spell cards that can summon random minions, new Legendaries, a new game board, nine new class challenges and more.
One Night in Karazhan will release in the game's store on August 12th and will release in four "wings" over the course of four weeks, with a new wing being added each week. Wings can be purchased individually or in a bundle and those who purchase the entire Adventure during its first week of release will get a special Karazhan-themed card back. The prologue mission will be arriving free to all players and will offer two of the Adventure's new cards.
More details about One Night in Karazhan can be viewed at the official site, and the disco-tastic announcement trailer can be viewed below.
Our Thoughts
Let's put aside the lore damage of turning Karazhan in to World of Warcraft's answer to Studio 54 for a moment and just enjoy the unashamed good time. Hearthstone has definitely shown a willingness to mold its source material to make a fun gameplay experience, and we're very curious about what sorts of new cards and strategies One Night in Karazhan will bring to Hearthstone's meta.
Your Thoughts
What do you think about One Night in Karazhan? Have you memorized that theme song already, or are you trying to strike it from your brain? What sorts of things are you looking forward to in the Adventure? Tell us below!
Sources: Official Site, YouTube, Press Release
Articles Related to Hearthstone
Hearthstone Blocks Wombo Users
Get a New Hearthstone Murloc Hero Via Recruit-A-Friend
Duelyst Review: Not Just Another Hearthstone Clone
Related:
Adventure
,
eSports
,
Hearthstone
,
News
,
One Night in Karazhan