Heroes of the Storm are today offering an exciting sneak peek at some of the colorful new Skins and Mounts in development for the MOBA phenomenon. Ready to get excited?
The trailer video showcases upcoming Skins for Kael'thas in varying colors and interestingly a 'StormPunk' skin which gives the Blood Elf a steampunk look suited to Heroes of the Storm. This is also in varying colors. Johanna the Crusader – a new figure coming to the Nexus! – comes with various colored Skins also, as well as a 'Master Johanna' Skin with even more armor and a Centurion Johanna Skin with a Roman solider theme. Sonya is getting a 'Super Sonya' Skin which gives the warrior-woman a "super" makeover which is sure to go down a treat! She also comes with some themed abilities which wouldn't go amiss in a comic book. In addition to these, the crazed Goblin Gazlowe is getting a 'Mad Martian' Skin, complete with a kind of steampunk-Martian-themed robot thing.. We can't really be sure! It has a brain in a jar and 80's-styled robot claws, anyhow. Perhaps most disturbingly, however, is the 'Bikini Stitches' Skin, giving Heroes of the Storm's resident abomination a beach-side makeover complete with rubber dinghy and a bucket and spade. Gulp.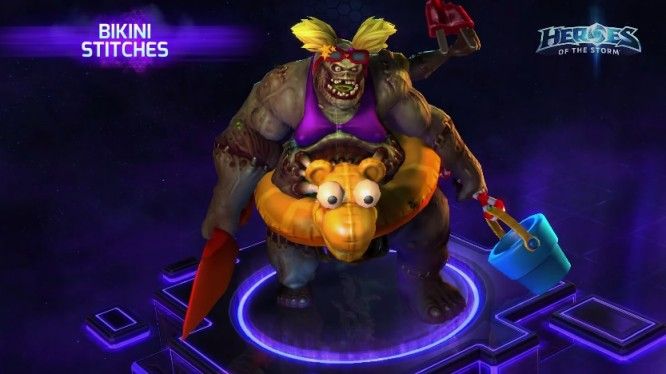 As for the mounts on their way to Heroes of the Storm, the video showcases a gorgeous Golden Tiger in three different colors, a Hearthstone Card which appears to move similar to a flying carpet, a pony for Illidan known as Illidan's Nightmare with the same skin patterns and armor styles as the demonic Night Elf. And for the smaller races, Blizzard is adding Billie the Kid. A creepy adorable tiny goat-pony.
The Skins and Mounts will be available in Heroes of the Storm's in game store soon!
Related:
Beta
,
Features
,
Heroes of the Storm
,
MOBA
,
News
,
Video