Li-Ming arrives in the nexus today as Heroes of the Storm begins its Lunar Festival 2016 event.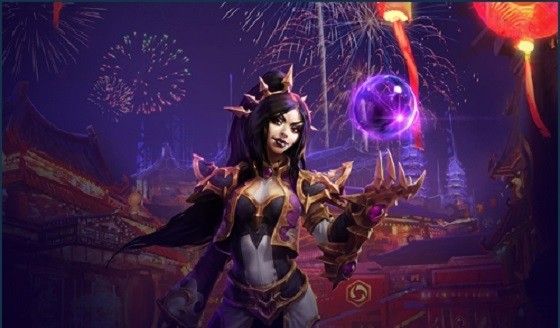 Along with the new Diablo 3 Wizard hero, Heroes of the Storm has introduced the limited time Lunar Festival event. Every day, players will be able to complete the Catch the Monkey Elder quest. At the start of each game there will be a 50% chance a Monkey Elder will spawn. Teams who work together to catch the Monkey Elder will receive a 100 gold bonus. Additionally, players who complete 25 AI, Quick Match, or Ranked matches during the event will earn a special portrait.
This latest patch also features some major gameplay balances. Both Cho and Gall received a number of tweaks and talent shifts to make the duo more competitive. One of the heroes with the most significant changes was Nova. Previously, Nova was in a strange spot because she could dominate casual play but was generally never present in the competitive scene. In order to balance her gameplay, she now has a focus on sustained damage instead of burst.
"This new direction for Nova addresses the first two issues by lowering her overall burst potential, while increasing her damage output overall. The most noticeable way we did this was through lowering both her Snipe cooldown and damage. For the third concern, we decided to do an overarching sweep of her Talents, removing the ones that weren't working, and created some new ones that should offer interesting choices that promote Nova's roaming and ganking nature. We realize that this is a slight departure from her long history of burst damage, but feel it is a better direction for her in the long run. We are watching her very carefully in order to react quickly and tune accordingly."
The other major change comes to Reghar. His Ghost Wolf form was heavily modified and many healing talents were shifted around. The focus is to make Reghar a significantly more aggressive support, which was the original intention for him. Now players will be able to pick a variety of healing and damage talents, instead of only stacking restoration ones.
Our Thoughts:
Heroes of the Storm balances changes tend to be very hit or miss. General community feedback so far regarding the Nova changes has been fairly negative, but it's possible that she'll find a new niche.
Source: Blizzard
Related:
Blizzard Entertainment
,
eSports
,
F2P
,
Heroes of the Storm
,
MOBA
,
News