If you ask Hi-Rez Studios president Stewart Chisam, the latest Overwatch hero appears to bear more than a passing resemblance to one of the characters that players can find in his company's own team-based online FPS Paladins in what appears to be a little bit of fun ribbing at Overwatch's expense.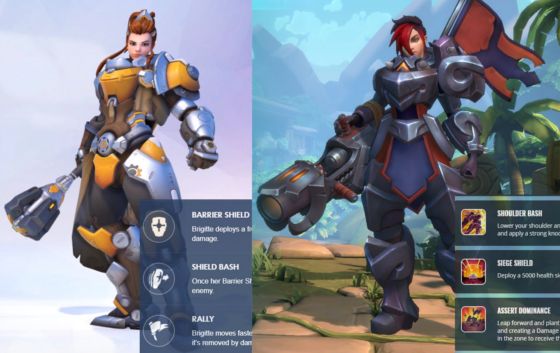 In a side-by-side comparison, Chisam points out some similarities between Overwatch's newly-revealed hero Brigitte Lindholm and Paladins' own armor-wearing, flak cannon-firing Ash.
At first blush, one can see some design similarities, particularly with regards to armor shape, body shape, and even a banner on each character's back. That said, Chisam then added a poll asking people's opinion on the matter about whether he was simply "the Pot calling the Kettle black, or the Kettle calling the Pot black":
Answer?

— HiRezStew (@schisam) March 1, 2018
As far as Paladins itself is concerned, the game currently is running its OB66 patch, which offers, among other things, the alpha build of Paladins Battlegrounds, the game's own take on battle royale.
Our Thoughts
Of course, there's always going to be that subset of people who are going to get spun up by what Mr. Chisam is intending here, but it really doesn't hit a particularly mean-spirited nail on the head. Then again, this isn't the first time people from Hi-Rez Studios have gotten into a spot of trouble for their remarks relating to similar games.
Sources: Twitter, official site
Articles Related to Paladins
Hi-Rez Sees Your Bad Fanart and Removes Cards Unbound
Here Are Full Matches of Paladins Battlegrounds in Action
Paladins Review (PC)
Related:
FPS
,
Multiplayer
,
News
,
Overwatch
,
Paladins