In what is either an end of the year miracle for fans for Major League Gaming or a sudden New Year surprise for some stockholders, Major League Gaming's Board of Directors approved an Asset Purchase Agreement with Activision Blizzard. $46 Million has changed hands between the companies. In addition, CEO Sundance DiGiovanni has been replaced by MLG's former CFO Greg Chisholm.
Major League Gaming has had some rough times this year with some financial dealings with the US Government in April and November of last year. This has likely led to the sale to Activision Blizzard who naturally have quite a few interests in the eSports world now. eSports Observer has an excerpt of the letter to stockholders informing them of the sale as seen below.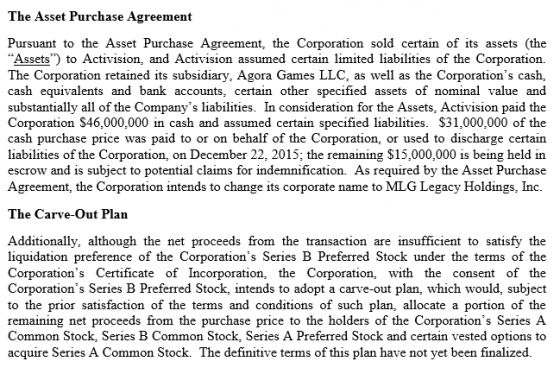 What does this mean for the pro eSports scene in America? How will it affect that Call of Duty partnership with ESL Gaming? How will this all ultimately play out? We'll have to wait and see.
Exciting times! ESL will be working with @eSportsCOD to create an amazing #BlackOps3 #CODWorldLeague in 2016! pic.twitter.com/YVZHSthIxZ

— ESL (@ESL) October 28, 2015
Source: eSports Observer
Notation: It is the first day of the New Year and we are not specialists in SEC Filings. If you find any information in this post to be incorrect or misleading, please contact us so we may correct it.
Related:
Activision
,
Blizzard Entertainment
,
eSports
,
Major League Gaming