After conquering the Korean mobile game market by becoming the top selling game in both Google Play and App Store the day after it went live, Heroes of Incredible Tales launches worldwide today! The fully 3D mobile hack-and-slash RPG powered by Unreal Engine 4 and developed by NAT Games offers an unprecedented quality for a mobile title and promises an experience on par with console and PC as far as its graphical effects go.
NAT Games was founded by Yong-Hyun Park, the renowned lead designer behind popular MMORPGs Lineage II and TERA. Heroes of Incredible Tales is their debut title and aims to "raise the bar of core gaming standards and redefine player expectations on these powerful mobile devices" according to Park.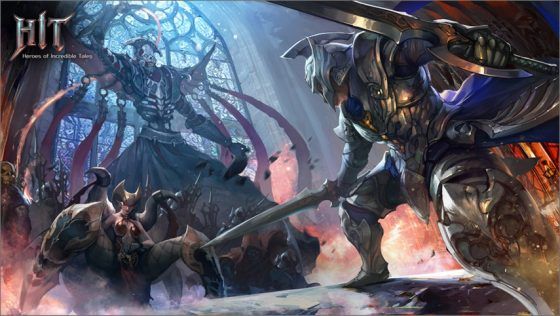 HIT offers four playable characters from the outset, each with unique strengths, abilities and play styles. The expansive skill tree provides the ability to customize the style of combat and evolve powers and there is a wide variety of gear including weapons, armor, and other rare loot that can be collected.
Along with an engrossing storyline in the Adventure mode, Heroes of Incredible Tales offers additional single player modes such as Tower Trials horde mode and the Daily Dungeon challenge. The title also remains true to its MMORPG roots, with an abundance of real-time multiplayer content for both cooperative and competitive play with head-to-head combat in The Arena, 3v3 PvP arenas, cooperative Raid Mode and all-out mayhem in Guild War.
Heroes of Incredible Tales is available as a free download on the App Store for iPhone and iPad and on Google Play for Android devices. You can watch the trailer below:
Our Thoughts:
This title looks extremely promising and we can't wait to try it out and see if it lives up to the already high expectations that its description builds up. NAT Games' credentials make us quite confident in the game's quality, though. It would be a true pleasure to finally experience action and content comparable to desktop or console gaming on our mobile devices so we're crossing fingers while waiting for the download to complete.
What do you think of NAT Games' title, does it really compare to a PC or console experience? Let us know in the comments!
Source: press release, official website
Recent Articles Related to Mobile Games
E3 2016: Dynasty Warriors Mobile
Pokémon GO Begins Soft Launch
7 Great Looking Mobile Games You've Never Heard Of
Ubisoft Launches Rabbids Heroes Mobile Card Game
Related:
Action RPG
,
Android
,
Apple
,
Asian
,
Heroes of Incredible Tales
,
Launch
,
Mobile
,
Multiplayer
,
NAT Games
,
News
,
Nexon
,
Single Player