Yep, it's another Monster Hunter World beta test. Which is probably going to be another demo. But this one is different. This one has a very large and incredibly spiky dragon. As a matter of fact, dragons are the focus of the most recent trailer, which shows off returning and new lizard friends for the game's release and post-launch DLC.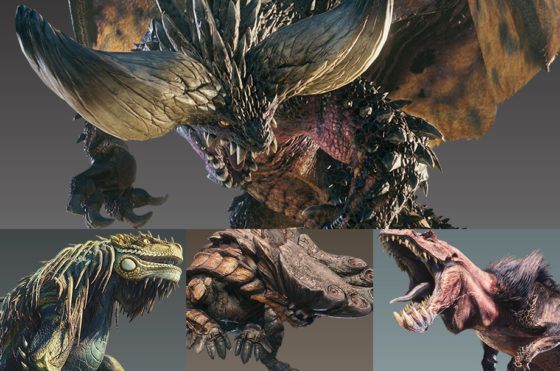 The new trailer in question offers a look at a variety of very big elder dragons that players of the game will square off against, including the wind storm-generating Kushala Daora and the fire-breathing Teostra. One of the new arrivals is Dodogama, a wyvern that eats rocks for breakfast and has saliva that can cause rocks to explode.
The end of the trailer also offered a look at the first free DLC monster that will arrive: the fan-favorite Deviljho, lovingly referred to as "The Pickle". This voracious and aggressive beastie will go live in an update set for sometime this Spring.
As for the third beta test, this one will include the same three hunt quests that the previous tests had, but will also let players do battle against Nergigante, the leading boss monster and cover critter for World. The beta runs from Friday, January 19th through Monday, January 22nd and will be open to all PS4 players who have an internet connection.
You can get your fill of grumpy large lizards of various shapes and sizes in the trailer below.
Our Thoughts
With all of the excitement being generated by this new trailer and by the upcoming "beta", we still have to have a moment of silence for the PC players who are being forced to wait several months for the game's release. That said, here's hoping this will mean a smoother PC title on release. We also wish those who will be in the PS4 beta luck in taking on Nergigante.
Sources: press release, official site
Articles Related to Monster Hunter World
Monster Hunte World Offers a Release Window for PC
Monster Hunter World Plans Free Monster DLC
Games Like Monster Hunter
Related:
Beta
,
Monster Hunter World
,
Multiplayer
,
News
,
Trailer