Crowdfunding for Ashes of Creation is going well. Very well. Over $1.5M worth of well. With the new funding milestone comes new Ashes of Creation stretch goals that will expand the upcoming MMORPG, while also keeping an eye on the greater effect stretch goals have on a crowdsourced title.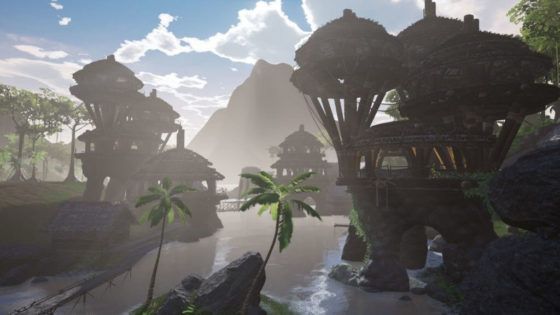 With parlor games, enhanced group mounts and enhanced naval content added to the development timetable, Ashes of Creation is looking to bring content to the deep places of the world. The Underrealm, an underground location of the game's world, is next to be added should funding crest $1.75M. After that, the introduction of Social Progression Paths will be added if funding arrives at the $2M mark, and a bestial Underrealm race at the $2.5M mark.
Social progression was described in the newsletter as a way for individuals to earn unique mechanics for their role as a citizen in a specific Node or even in the wider world. " It's exciting new quest lines and social hierarchy that we think will bring a fun dynamic to your storyline and gameplay," explained the post.
The update also took a moment to address the concern of stretch goals hyper-extending the development of the MMO.
"We want to make sure you guys are aware that none of the goals on our stretch goals will result in scope creep. We have carefully planned out all of the work necessary to achieve these goals. Which is why they are at the values they are at. We will not delay the release of the game in any way because of these goals!"
Our Thoughts
Of course, planning for certain milestones is one thing, but this game and other huge crowdfunded titles like Star Citizen have shown that excitement and eagerness to help fund a project can very quickly snowball. We appreciate the nod of recognition in the direction of scope creep, but the proof will ultimately be in the action of how the AoC team handles things going forward.
Source: Kickstarter
Articles Related to Ashes of Creation
Ashes of Creation Funding Completed Within One Day
Interview: Ashes of Creation on Building Their Virtual World
Ashes of Creation Nodes Detailed in Blog Post
Related:
Ashes of Creation
,
Crowdfunding
,
Kickstarter
,
MMORPG
,
News
,
Stretch Goal