Today marks one of the most important events for Gearbox Software since their MOBA-shooter hybrid launched, as a new Battleborn DLC adds a heap of new content and features to the game! What is probably even better to know, the DLC is free for those who already own the game.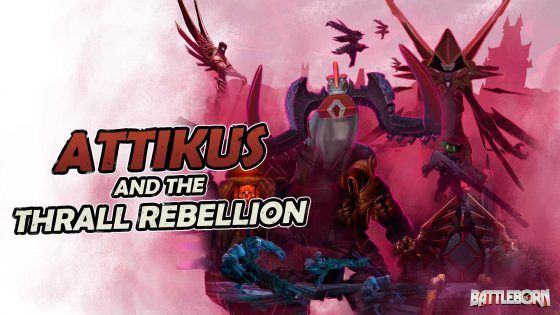 The first addition to Battlebornannounced a little while ago, and it is a Story Operation, defined by developers as side stories expanding on Battleborn hero lore. Attikus and the Thrall Rebellion is the first Story Operation to be added to the game, and it will let players relive the third Thrall uprising that sparked a revolution within the Jennerit Empire.
This Story Operation can be played and replayed solo or co-op with up to two other players, and each playthrough can unlock new lore, skins, titles and taunts, but they are also highly replayable due to changing dialogue, enemies and objectives depending on how players go about completing the mission.
The second major addition to Battleborn is the new free competitive multiplayer mode called Face-Off. Face-Off is a 15-minute, 5v5 match where players have to take down Varelsi and collect their masks – or take down enemies and steal the masks they collected instead. Points are scored by bringing the masks to the depository in the center of the map and the first team to get to 500 points wins.
Face-Off takes place on Capture maps – Temples, Snowblind, and Outback – but there will be up to six Varelsi spawn camps in different locations around each map. The mask depository is located near the center of each map, at frequently contested points. Private bot matches will not be available at release but may be an addition further down the line.
Our Thoughts:
Although Battleborn isn't going free to play anytime soon in spite of rumors, at least its new content is available for free – and this DLC right here is quite a good chunk of new action that players can enjoy. We're thinking a trial for the game might be an interesting option to attract more players in the long run, and are curious to find out more about the hero lore with these Story Operations.
Your Thoughts:
What do you think about Battleborn's most recent additions? Are you disappointed that Battleborn is not going free to play? Let us know in the comments below!
Source: official website #1, official website #2
Related:
Battleborn
,
DLC
,
Gearbox Software
,
News