Nexon announces its latest game; Lost Saga.
New gameplay features open up a new dimension in online fighting.
NEXON Europe has hinted at this game even before summer, and its finally there; the announcement of Lost Saga. Lost Saga is a fast-paced, easy-play, fun-packed, action fighting game to rival the very best of party brawlers around. With over 100 cute and fantastical characters on offer, 20 maps to play on, and various game modes, this free-to-play MMO fighting game will keep occupied for hours on end.
Lost Saga is an online multiplayer brawler game developed by I.O. Entertainment and licensed by WeMade Entertainment. The huge grid of playable characters consist out of the most famous figures and fighters from across the ages; from Robin Hood to modern day ninja warriors, meshing together fantasy, sci-fi, and popular culture in a glorious party title for up to 16 players to simultaneously beat each other up online.
All of the heroes in Lost Saga are fully customizable, allowing players to create their own fighter and add a personal touch to game. Players will be pushing their characters to the limit as they battle with friends over an assortment of urban, natural, and mystical environments. Did we already mention that all of this can be experienced without spending any extra money?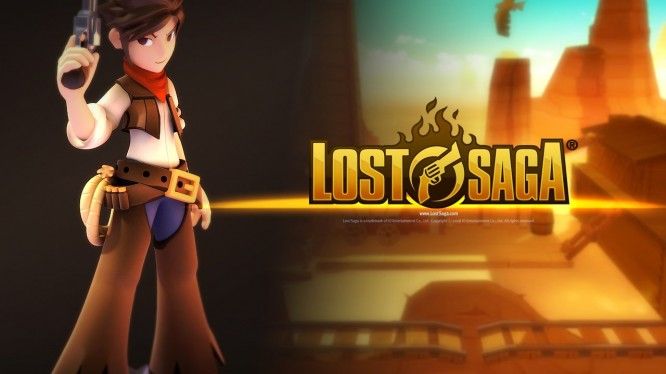 Kenny Chang, Managing Director at NEXON Europe say the following:
"We're incredibly pleased to have this prestigious title added to our already large and varied collection. Lost Saga is an easy to learn, difficult to master Free-to-Play MMO fighting game. Fast-paced, high action, and fun-packed gameplay with 100 different well-balanced offensive and defensive characters will provide unique experiences in every single play. I believe our players will relish in this great addition to the NEXON Europe family."
The battles in Lost Saga come in all sizes and types:
Crown Control mode: All heroes must defend their team's crown from their enemies.
Prisoner mode: The players can capture their opponents on the field of battle.
Power Stone mode: Players are challenged to protect their skills by keeping their Power Stone safe.
Boss Raid mode: This mode gives one hero the ultimate advantage as he becomes the boss that his opponents must destroy.
The armor and weapons in Lost Saga are each associated with specific skills, and players who are prevailing in battle can claim their opponents' armor and weapons. But it doesn't stop there! Aside from the opponent's weapons and armor, players can also claim the accompanying skills as their own. This opens up a whole new dimension to the game, and will also be a stepping stone to a diverse online player grid. An innovative character-swap system lets players switch out characters from their full arsenal of heroes in the middle of battle to change tactics and bash out massive combos as well. Thousands of skill combinations and variations make Lost Saga an ever-changing battle that keeps players on their toes, while an engaging art style and intuitive controls keep the game accessible and fun.
Lost Saga will be serviced in 6 languages: English, German, French, Italian, Polish, and Turkish. NEXON Europe is looking forward to the closed beta test in early 2014.
To find out more about Lost Saga, visit the game page.