The No Man's Sky Next update is going to be the next update for No Man's Sky. If that sentence is a bit confusing, I'd just advise to pay close attention to the capitalization of "next" in this report. Hope that helps.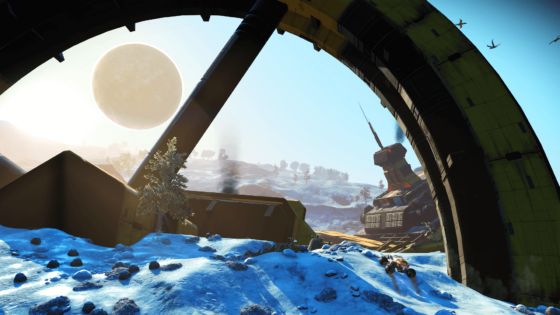 Developer Hello Games announced the intention to both kick out this latest free update for the exploration sandbox as well as bring the game in full to Xbox One players, complete with all of the most recent updates including Foundation, Pathfinder and Atlas Rises.
As for what the Next update has to offer, Hello Games' Sean Murray is keeping pretty mum on the specifics while also going ham on the PR in his statement:
"We are calling this No Man's Sky NEXT because it is an important next step in a journey for No Man's Sky, for Hello Games and for our devoted community. Each update for No Man's Sky has been more successful than the last; this was especially true of our last update Atlas Rises. It emboldens the team to push ourselves further. This journey is far from over, and it's exciting to be working again on something you know will surprise people."
That's about all that's available regarding this upcoming content update for now. Further details are expected at some point soon, while the Xbox One edition of No Man's Sky can be expected to launch later this year.
Our Thoughts
Well, that's not an awful lot to go on. That said, at least something is coming to No Man's Sky next with Next. We're be sure to provide more concrete details in the near future.
Source: press release
Articles Related to No Man's Sky
No Man's Sky Atlas Rises Update Introduces Multiplayer (Sort Of)
A Deeper Look at the No Man's Sky Foundation Update
No Man's Sky Game Page
Related:
News
,
No Man's Sky
,
Sandbox
,
Update
,
Xbox One