The next chapter in the Knights of the Fallen Empire will be available on June 3, 2016. This latest story in Star Wars: The Old Republic will also offer the Eternal Empire Patroller vehicle as a Subscriber Reward.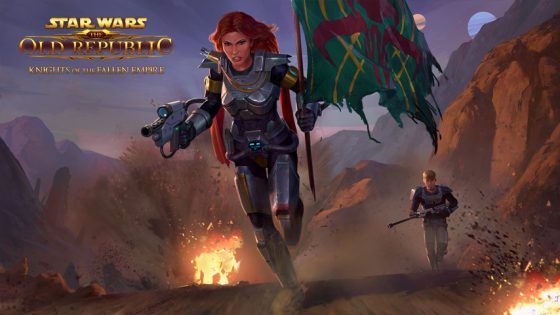 In Mandalore's Revenge, the Outlander will have an opportunity to team up with an army of brutal Mandalorian warriors and confront Emperor Arcann. In order to seize control of the most powerful armada in the galaxy, the Eternal Fleet, players will meet up with the infamous bounty hunter Shae Vizla.
"Prepare to brave the harsh desert world of Darvannis and survive its brutal enemy forces in a desperate attempt to save the galaxy from the Eternal Empire forever – and earn the loyalties of Shae Vizla and unyielding Mandalorian warriors!"
Currently, Mandalore's Revenge and all other Knights of the Fallen Empire chapters are available to subscribers. However, throughout May, a free trial of Chapter One: The Hunt will be made available. Players who activate the trial by May 30 will also receive a free level 60 character. Additionally, those who subscribe by June 1 will receive the Eternal Empire Patroller vehicle reward.
Our Thoughts:
The story of Star Wars: The Old Republic requires constant updates in order to keep the world feeling alive. It's unfortunate that free-to-play users miss out on a lot of the new content, but that incentive to subscribe is what keeps the game in development.
Source: Bioware
Related:
Bioware
,
MMORPG
,
News
,
Star Wars The Old Republic