Neverwinter's Spellplague Caverns are a classic location for the MMORPG, but time nor the Cloaked Ascendancy has been kind to the location. In a recently posted developer's blog, environment artist Patrick Poage shared a variety of adjustments coming to the new Master version of the dungeon.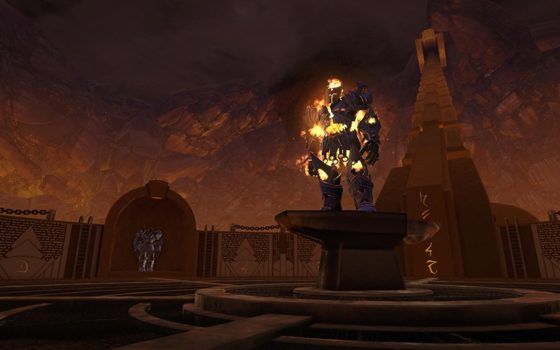 A ritual deep inside the Spellplague Caverns must be stopped, and players will re-enter the cave to take down the Cloaked Ascendancy. As a result of the effects of time and this ritual, the visual team took the opportunity to introduce some new visual effects and broken pathways, as well as some new lighting adjustments to soften the amount of light and shadow.
The preview also offers players a look at some of the upcoming dungeon's boss mechanics. The second boss room will feature a small battle arena surrounded by a damaging spellplague mist, and the final boss will introduce mechanics that will require some players to enter a portal to the Feywild and fight the boss in a parallel plane of existence.
The complete rundown of the new-look Spellplague Caverns can be read here.
Our Thoughts
A lot of this blog post is very technical as well as interesting to those who like to look behind the scenes, but we're most intrigued by a couple of the mechanics previewed. Fighting the same battle on two different planes of existence sounds like a very interesting encounter, both visually and mechanically.
Your Thoughts
What did you think of the Spellplague Caverns preview? Are you impressed by the visual adjustments, or were you more interested in learning more about the dungeon's battles? Tell us in the comments.
Source: official site
Articles Related to Neverwinter
Neverwinter Reveals The Cloaked Ascendancy Release Date
Neverwinter River District Introduced in Blog Post
Neverwinter: Sea of Moving Ice is Now Available on Console
Related:
Dungeon
,
MMORPG
,
Neverwinter
,
News
,
Preview