Hearthstone, the incredibly popular Collectible Card Game which has burst onto the e-sports scene and captivated many more casual gamers, was the final topic of the day for Blizzard at PAX East, and no less exciting (though perhaps a little less time to spare on the details after Heroes of the Storm's technical issues).
The hot topic of Hearthstone is the announcement of Blackrock Mountain, the next Adventure (or expansion). We had an inkling already because this stuff tends to be the victim of leaks and hints, but it's always awesome to see something officially confirmed, and Game Director for Hearthstone, Eric Dodds, managed to give us all of the information we need and want in the few short minutes he had to do so.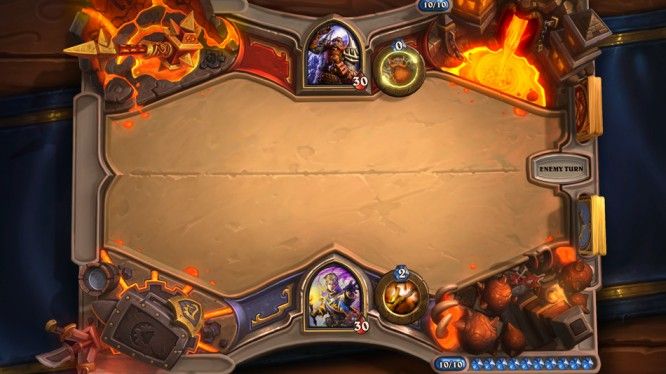 Blackrock Mountain will be very similar to The Curse of Naxxramas Adventure, Dodds revealed, in that each week will see new bosses and challenges released with a different Wing. With 5 Wings and 17 bosses to come, this means 5 weeks of new content. Although, Blackrock Mountain will have a different vibe to Naxxramas as evidenced by the rather fun-feeling Trailer video.
Of course with a new Hearthstone expansion comes a new board and new cards, 31 to be exact, with plenty of fiery elementals on the side of Ragnaros, and Dark Iron Dwarves with Nefarion. A few different cards were previewed with some pretty cool abilities, though the one that caught my eye the most was Rend Blackhand, a new legendary card with the ability to destroy an enemy legendary minion if you are holding a Dragon card in your hand. There will also be new card backs for Pre-Orders, which also unlocks every Blackrock Mountain Wing, Heroic and Season. This new Adventure will be coming next month.
Dodds also revealed that the team is hard at work in developing Hearthstone for iOS and Android phones which should be ready very soon.
For more information and to download Hearthstone for free now, visit the official website.
Related:
Announcement
,
Blizzard Entertainment
,
Card Game
,
Hearthstone
,
News
,
PAX East