If Halloween were its own universe, then it would likely look like the Plane of Autumn Harvest according to the RIFT Autumn Harvest event. The seasonal event is opening up rifts to this new plane and giving players a variety of themed rewards.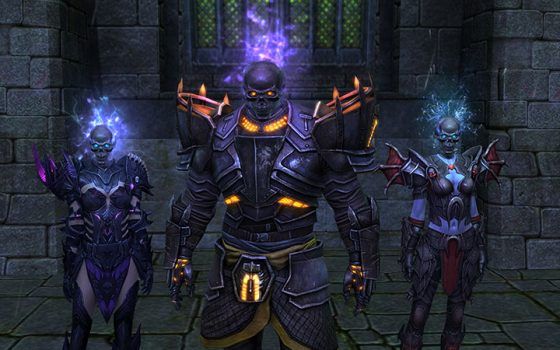 Rifts to the Autumn Harvest realm are opening all across the game's land of Telara and offering a variety of rewards. The event also will bring back the Monster Mash to the Black Garden as players are transformed in to monstrous forms.
The in-game store is also celebrating the season with a variety of offerings including a blood-soaked doctor's outfit, several disturbing weapon skins and a skeletal Budgie Mount. The store will also offer 21 new Story Missions associated with the Valzor minion, which will lead to three new minions along the chain.
The RIFT Autumn Harvest runs from now until November 3rd. Information about the Autumn Harvest can be seen on the official forum.
Our Thoughts
The Autumn Harvest event sounds like a lot of fun, especially when it comes to Halloween worlds opening tears in Telara's reality and spilling out all over the place. We have to admit that the Budgie Mount also looks pretty impressive, though we'll not dwell too much on how a skeletal bird is able to hold up someone in full plate armor.
Your Thoughts
What do you think about the Autumn Harvest event? Is there any offering in the game's store that has your interest? Give us your thoughts in the comments area below.
Source: official forum
Articles Related to RIFT
RIFT Previews Rogue and Primalist Legendary Powers
RIFT Showcases the Gedlo Badlands in a Starfall Prophecy Zone Preview
RIFT's Starfall Prophecy Expansion Announced
Related:
Event (In Game)
,
News
,
Rift
,
Seasonal Event