The most recent Starfall Prophecy zone preview for RIFT discusses the Gedlo Badlands, an arid zone full of goblins and Devil Lords.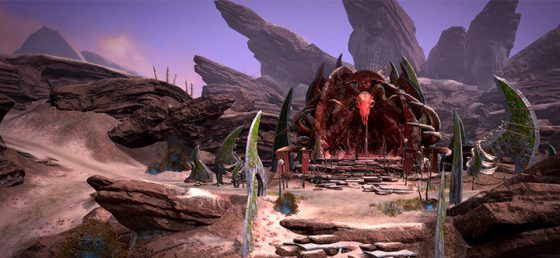 "Not much good comes out of the Gedlo Badlands" starts the preview, which consists of barren wastelands populated by enraged goblin tribes who hold an intense grudge against the local kobold tribes and the Ascended of Telara. Players arrive to the zone in hopes of stopping the Devil Lords of Ashenfell from unleashing a fiery apocalypse against the world. RIFT warns players to "prepare well first, in knowledge and armament. The Gedlo Badlands is a crucible for the heroic spirit."
Starfall Prophecy is due to arrive to RIFT in the fall, and full details about the Gedlo Badlands can be seen on the official site.
Our Thoughts
As we come towards the fall and the release of Starfall Prophecy, we're looking forward to seeing more previews of the areas and the other features coming to RIFT. The Gedlo Badlands zone looks like a remarkably vicious wasteland, and we like the idea of turning the tide against long odds. We're eager to learn more about Starfall Prophecy!
Your Thoughts
What do you think about the Gedlo Badlands? Do you like barren and firey zones like this, or is there some other style of zone you prefer? Tell us in the comments below.
Source: Official site
Articles Related to RIFT
RIFT's Starfall Prophecy Expansion Announced
Top MMO News: April 15, 2016
Rift Patch 3.6 Preview: Celebration of the Ascended
Related:
News
,
Preview
,
Rift
,
Starfall Prophecy