We have some bad news if you were hoping to be able to test play RIFT's newest expansion already. An official forum post from Trion World announced that the RIFT: Starfall Prophecy open beta, scheduled to start today, would be delayed until Monday, October 17.
However, this delay is not the only news Trion had concerning the Starfall Prophecy expansion, as there are some important changes coming to the game's currency and PvP system!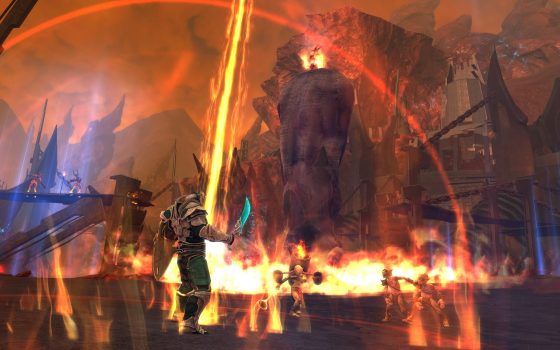 To start with, players should start spending their extra Aventurine as soon as possible. Once the Starfall Prophecy expansion launches, Aventurine will be capped at 5000. This cap will be implemented in order to prevent players from hoarding as much currency as possible to the use it to obtain massive rewards from World Event missions.
In adition to this, Trion also decided to improve PvP experience based on player feedback. As a result, devs decided to streamline the amount of PvP content available at a given time in order to make it easier for new players to learn about RIFT's PvP and hopefully get more players involved. And since the Warfronts are the most popular type of PvP content in RIFT, during normal weekdays PvP content will lean on a specific rotation of Warfront Maps and add special weekend events opening other maps to players.
The top level PvP queue will also include the level 65-70 range and after the launch of the expansion, a new high level PvP queue will be introduced. Last but not least, the new Warmonger's gear will represent the best-in-slot for PvP, ignoring the bolster ceiling.
Our Thoughts:
Although the effect of all these changes remains to be seen after the expansion launches and more updates are applied, it's somewhat sad to see the PvP activities reduced even if the reason given is answering to player feedback and providing a better experience.
Your Thoughts:
What do you think about the changes coming to RIFT with the Starfall Prophecy Expansion? Let us know in the comments below!
Source: MassivelyOP
Related:
MMORPG
,
News
,
Open Beta
,
Rift
,
Trion Worlds