A quest in RuneScape that's run on for a pretty long time is about to finally come to a close. RuneScape's Pieces of Hate will send players on the final steps of a pirate-centric storyline that's run in the MMORPG for thirteen years going, along with new features such as deep-sea fishing.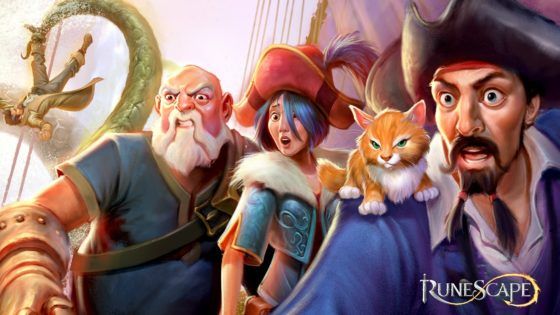 Pieces of Hate will feature a variety of activities such as underwater expeditions, battles against giant sea monsters and zombie pirates, and an upgrade to the Book o' Piracy that lets players sail to several locations across Gielinor…provided they pay the cost of rum, of course.
Level 68 fishing players can also take advantage of some new deep-sea fishing from an offshore hub. Digital fishers can cast their lines to reel in unique finds such as jellyfish and whales along with additional rewards and XP. There's also hint of greater rewards for those who risk greater dangers the farther out to sea they travel.
"The team has worked hard to deliver an exciting end to the story, especially to those waiting since 2005, and we can't wait to build on it as part of our narrative arcs for the next five years," says RuneScape lead designer Dave Osborne. "It's really astonishing to have reached the end of the pirates' tale after 13 years, so we're thrilled that our players can experience the concluding events in Pieces of Hate."
Our Thoughts
13 years is a long time to wait for the close of an MMORPG questline, so here's hoping that the finale of this particular story has the right level of payoff for players. And hey, if that doesn't work out, there's always bigger fish to catch. Quite literally.
Source: press release
Articles Related to RuneScape
Clue Scrolls Get a Rework in RuneScape's Latest Update
Old School RuneScape Celebrates its Fifth Birthday
RuneScape and Old School RuneScape Are Coming to Mobile
Related:
MMORPG
,
News
,
Runescape
,
Update