The hyper-violent ninjas vs. demons FPS is arriving soon, according to a video that has provided a Shadow Warrior 2 release date.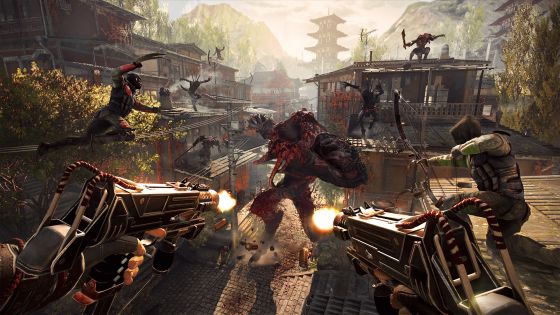 Shadow Warrior 2 sees players stepping in to the shoes of Lo Wang, a former corporate shogun who must battle back against invading demon hordes using "a devastating combination of guns, blades, magic and wit" according to the press release.
Shadow Warrior 2 will include four-player co-op or single-player gameplay in open, vertically scalable environments where players will have a varied arsenal of weapons to take down their foes. Gameplay will feature FPS gameplay and melee gameplay, with the ability to slice up foes in real-time. Loot in the game is procedurally generated designed to make each run of the game different.
The game will launch on October 13th on PC and is available for pre-order now on Steam, GOG and Humble in either a standard edition or a deluxe edition, which will include a soundtrack, digital art book and a pack of gold skins. All those who pre-order will get 10% off of the price and will also get access to a Razorback chainsaw katana weapon, and those who have previously bought the first Shadow Warrior will get an additional 10% off.
The announcement trailer can be seen below.
Our Thoughts
Shadow Warrior 2 looks like the sort of game that revels in its brand of gory fun. Honestly, any trailer where someone taking down a demon while using a selfie stick has to be a good time. We're looking forward to seeing if Shadow Warrior 2 is as entertaining as it looks.
Your Thoughts
Will you be pre-ordering Shadow Warrior 2? Is this just another FPS game to you? Tell us your thoughts in the comments.
Source: Press release
Articles Related to Shadow Warrior 2
Shadowgun Legends Offers Persistent Online FPS Gameplay to Mobile
New MMOFPS Phantom Assault Revealed
Speed Round: eSports FPS Showdown – Call of Duty vs. Counter Strike: Global Offensive
Related:
FPS
,
News
,
Release Date
,
Shadow Warrior 2