Hope you weren't attached to all of that grinding in Legion to buff up your shiny, shiny sword. The Warcraft Speaker's Call event has begun in-game, starting off the process of essentially resetting Artifact weapons to ready players to take in new power in a different manner once Battle for Azeroth kicks off.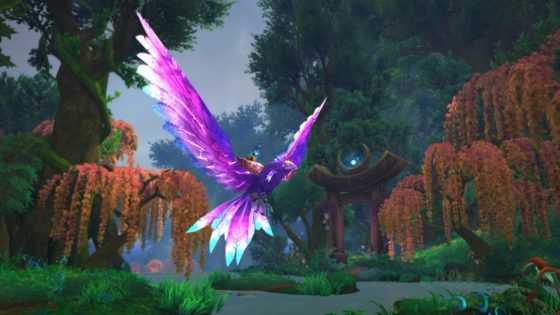 The Speaker's Call will have players answer the summons of Magni Bronzebeard in Silithus to use the power of their Artifact weapons and draw the darkness from Sargeras' sword in an effort to stabilize the wounds of Azeroth. Doing so, however, will cause your weapon to become unstable, granting it a temporary boost in power.
Speaking of Battle for Azeroth, the pre-patch for the expansion will begin to disengage any Artifact weapon traits, laying the groundwork for upcoming application of Azerite buffs through the Heart of Azeroth progression system that's a central part of the expansion's progression system.
In addition to the Speaker's Call, players of Warcraft can now get the Artifact Challenge quest from the Mage Tower in the Broken Shore 24/7 until the arrival of the pre-patch to attain their Artifact Appearance.
Also of note is an alert that the Ahead of the Curve: Argus the Unmaker and Cutting Edge: Argus the Unmaker Feats of Strength will no longer be attainable once the pre-patch arrives. Additionally, the Violet Spellwing mount that can be earned at the end of the Blood of a Titan quest will no longer be available once Battle for Azeroth itself goes live on August 14th.
Our Thoughts
We wonder how many people are going to be annoyed that all of their power in their Artifact weapons are being drained dry to make way for the Heart of Azeroth. Then again, if it provides similar or better benefits than the Artifact Power system did, it's probably going to make little difference. In any case, there's not long to wait now until BFA arrives!
Source: official site
Articles Related to World of Warcraft
World of Warcraft Talks BFA Pre-Patch and Shares its Main Theme
Support for WoW Mobile Armory App Ending
WoW Wednesday: Must-Have Items for the Battle for Azeroth Launch
Related:
Battle for Azeroth
,
MMORPG
,
News
,
Warcraft
,
World of Warcraft
,
WoW