The development team at Perfect World Entertainment has had their hands full as Star Trek Online prepares for consoles with a new console-friendly UI, and gets ready to turn the clock back to the 23rd century with the upcoming Agents of Yesterday expansion.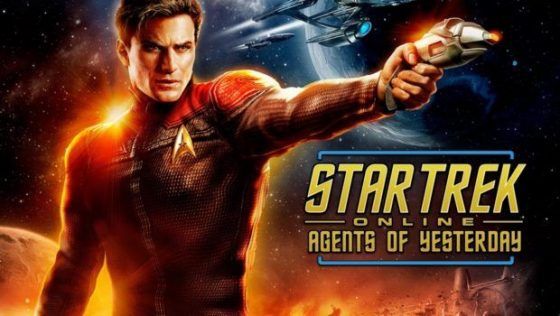 Porting a PC MMO to a console is no simple task, due to the large numbers of controls involved, not to mention the fact that chat is involved. A recent development post on the official Star Trek Online website gives some insight into how the development team is tackling the challenge. The solution came in the form of special radial menus in the console version, which can be quickly accessed and a selection made with a standard console controller. The radial menu will provide a stand in for the usual hotkeys used in an MMO, and the player can assign their most used special maneuvers to quickslots on the radial menu, in addition to accessing other deeper menus. According to Thomas Marrone, 2D/3D artist for Star Trek Online, the console UI is "…cleaner and more consistent than its PC counterpart."
Star Trek Online is also preparing for the Agents of Yesterday expansion, in which players will find themselves traveling throughout time to solve various crises and set events right. Two of the missions that will be included in the expansion, Tangled Webs and Battle of Caleb IV. Gold and Lifetime players will be able to play these two missions early, before the actual release of the expansion, by creating a new "TOS Starfleet" character at the character creation screen.
Our Thoughts:
As more and more big name free to play PC games port over to console systems, we cannot help but wonder if it signals something of a shift in the console gaming market overall. Regardless, the console UI looks amazing (Numerous screenshots can be viewed on the source page, if people like) and STO is a lot of fun. Now console players and PC players alike can go galloping through the timesteam!
Sources: Star Trek Online Official Website: Console UI post, Battle of Caleb IV post, and Tangled Webs post.
More Articles Related to Star Trek Online
Star Trek Online is Coming to PlayStation 4 and Xbox One This Fall
Star Trek Online: Agents of Yesterday Expansion Arriving This Summer
Star Trek Online Season 11.5 Goes Live
Star Trek Online Skill System Revamp Explained
Related:
News
,
Perfect World Entertainment
,
Star Trek Online
,
Update