There. With that headline, I've made my required crappy diving pun for the Subnautica release as demanded by the Unwritten Law of Games Writing. Bad jokes aside, the underwater-centric survival sandbox title has indeed made its way to full release on both Steam and Perfect World's Arc platform.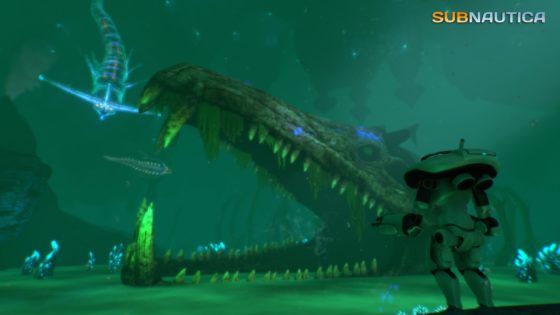 Touting a total of 1.4 million players trying out the game since its first prototype in 2014, Unknown Worlds Entertainment's open world title has grown as a result of "positive and constructive feedback" according to game director Charlie Cleveland. "We are proud to deliver an experience that gamers of all ages will dive into and immediately feel the thrill of exploration and survival in an expansive undersea world," said Cleveland in a statement.
Subnautica has players crash landing on a watery alien world with only a small life pod and meager tools. Players must craft food, water and other supplies to survive, and can later explore the alien world to find new blueprints to create advanced equipment including underwater bases.
The game can be enjoyed in one of three modes: a standard Survival mode; a Hardcore mode where oxygen alerts are removed and you have only one life; and Creative mode where players can explore and build without worrying about health and resource costs.
Subnautica is out now on PC at a cost of $24.99, with a release on Xbox One nearing release at a later date. More details are available on the game's website and a trailer can be seen below.
Our Thoughts
So on the one hand, Subnautica doesn't appear to have much different on its surface than other survival sandbox games do. On the other hand, the fact that it's a fully released game is pretty nice in the world of early access. There's also something to be said for the game's setting and the unique challenges it provides players. We hope subgenre fans find a lot to love about this one.
Source: press release
Articles Related to Subnautica
Subnautica Game Page
Viking-Themed Online Survival Sandbox Valnir Rok Announced
ARK: Aberration Expansion Gets a Release Date
Related:
News
,
Release
,
Subnautica
,
Survival Sandbox