While the Great MOBA Crash of 2016 has come and gone, that doesn't mean there aren't a few dev studios trying to take a unique stab at the sub-genre. For example, we've got here a Switchblade early access announcement, which is trying to combine the great tastes of MOBA-like gameplay and vehicular combat at the end of this month.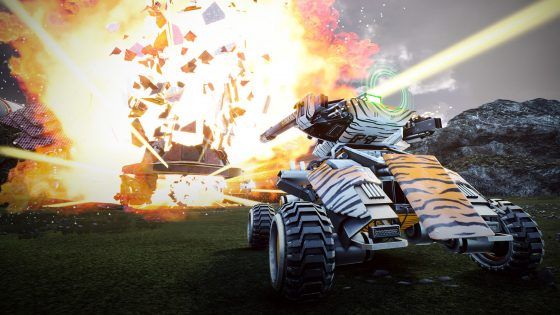 Switchblade features 5v5 arena combat where teams battle it out in a futuristic sport with a variety of sci-fi vehicles. Each vehicle type plays a unique role in team composition and fits into one of five roles, be it support or long-range fire or harasser and scout. The objective of gameplay isn't immediately spelled out, but the protection and destruction of towers on each of the game's maps appears to be the primary goal.
Switchblade is due to arrive to early access on both Steam and PlayStation 4 on Tuesday, August 28th. Details on what's available in early access, including play modes and more, can be read here and a trailer showing off the game in action is embedded below.
Our Thoughts
Frankly, we're going to need a little more information about just how matches work in Switchblade, but we've got to admit that the wrinkle of attack vehicles and the pacing of the game certainly seems to bode well for this one. Consider us extremely curious.
Source: press release
Related:
Early Access
,
MOBA
,
News
,
PC
,
PS4
,
Switchblade
,
Vehicular Combat