The next expansion for Star Wars: The Old Republic is coming, and helping to stir the pot is the premiere of a new Knights of the Eternal Throne trailer.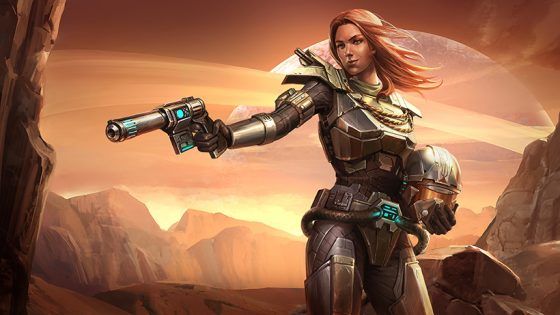 The trailer shows the life of a young Vaylin, the woman who would become the new Empress of the Eternal Empire. In the trailer, her mother Senya is shown attempting to hide the young girl's control of the Force and ultimately failing, leading to a face-off between empowered daughter and exiled mother.
Knights of the Eternal Throne will continue the story of the player as The Outlander in nine chapters and two new planets, with five more levels being added to make a new level cap of 70. The expansion touts the addition of a Galactic Command system which will let players "battle new Uprisings and unlock the most powerful rewards" at cap.
Those who are Premium Members on certain dates will unlock extra rewards, including a new companion, a unique Walker mount and three days of early access.
Knights of the Eternal Throne is set to launch on December 2nd. The information currently available for the expansion can be seen on the official site, and the "Betrayed" trailer can be seen below.
Our Thoughts
The story of the Eternal Throne continues to get more and more intriguing, especially with the added wrinkle of a Force-powered family feud. Knights of the Fallen Empire looks to maintain the grand BioWare storytelling tradition and we are very excited to see the next several chapters.
Your Thoughts
What do you think about the new trailer? Are you excited for the Knights of the Eternal Throne expansion? Give us your thoughts in our comments section!
Source: official site
Articles Related to Star Wars: The Old Republic
Versus: The Secret World vs. Star Wars: The Old Republic
Star Wars: The Old Republic: Everything We Know About Knights of the Fallen Empire
SWTOR Expansion Knights of the Eternal Throne Announced
Related:
Knights of the Fallen Empire
,
News
,
Star Wars The Old Republic
,
Trailer