PC players of TERA are seeing a bit of a two-for-one update today. A crossover promotion with the popular anime Attack on Titan has arrived to the action MMO, along with the TERA: Gilded Mask update which adds new story content and a new gear slot.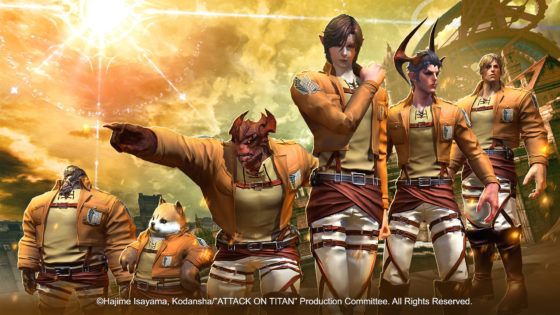 Let's get the anime stuff out of the way first. A limited-time crossover between TERA and Attack on Titan will let players take on enormous BAMs dressed in Survey Corps outfits taken straight from the show with new EMP Store items. A number of cosmetic items are on offer for purchase include outfits, emotes and more. These items will be available between now and Tuesday, March 29th.
Now on to the stuff you don't have to pay money for to experience: the Gilded Mask update has opened up a new level 65 dungeon to PC TERA players in the form of the Red Refuge, where players are tasked with rescuing a hostage and are being prepared to learn a surprising truth about the Valkyon Federation. Red Refuge will come in Normal and Hard modes.
Gilded Mask will also introduce a new Mask equipment slot for players to further strengthen themselves thanks to a buff to Endurance and one other stat, though Masks are currently only available as drops from the Hard mode variant of Red Refuge.
Some more information about the Gilded Mask update can be read here, while a trailer showing off the Attack on Titan cosmetics can be seen below.
Our Thoughts
Masks! Honestly, it's not a gear slot that we'd considered terribly often, but having ways for players to ramp up their power isn't always a bad thing. Here's hoping these new items will be added to more content loot tables soon.
Source: press release
Articles Related to TERA
TERA Celebrates Sixth Anniversary All Through May on PC
TERA Hosts a Murder Mystery Community Event
TERA Reaches Two Million Players on Console
Related:
Crossover Event
,
MMO
,
News
,
TERA
,
Update