It just isn't a day at the beach in TERA without some murderous crustaceans scuttling about, is it? Much like last year, the 2018 TERA Summer Festival brings back sun and fun in Castanica along with deadly crabs. Which are there, no matter what the pamphlet says.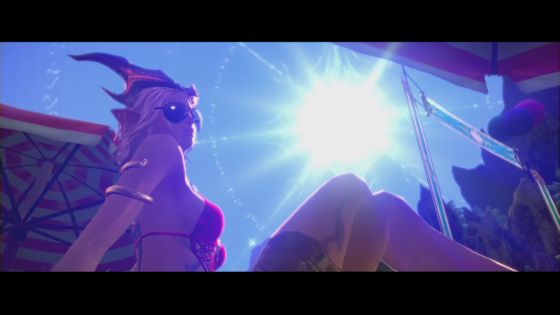 This year's summery bash is pretty much a carbon copy of last year's, but if you missed out here's the general rundown. Players can enjoy some thematic goodness on the shores of Dragonturtle Beach and Kerozen Isle to the north of Castanica, including watermelon smashing, shooting water cannons at demons, and building sand castles. There are also Beach Bash quests for players level 48 and up.
If you'd rather not deal with sand getting everywhere, there's also a Festival of the Sun at Balder's Refuge. Players can help the Consos Clan priests fight off monsters in the temple, clean up the mess left behind from the battle, and then assemble sweet iced treats.
Temple of the Sun event quests rotate on a daily basis and will reward players with currencies that they can use to buy crafting items, food items, or a Sandy Summer Festival Loot Box that guarantees a summer costume or accessory from events past. Bear in mind, however, that any such reward might not be usable by your character's race or gender.
It all goes down on PC from now, June 21st to Tuesday, July 31st. Details are here and a trailer totally not full of dangerous crabs is below.
Our Thoughts
While it would have been nice for the summer event in TERA to be different this time around, we're sure that players who perhaps missed the boat last year will be happy that they get to experience the event for the first time. Or hopefully players who were around last year will have better luck getting the summer accessories they want. In any case, have fun!
Source: press release
Articles Related to TERA
TERA Takes the Hero's Oath on PC
The Gunner Class is Headed for TERA's Console Version
TERA Reaches Two Million Players on Console
Related:
MMO
,
News
,
PC
,
Seasonal Event
,
TERA