Trion Worlds unveils Hellbugs In Love, a Trove and Defiance Valentine's Day Event, a crossover between Trove, a voxel-based MMORPG, and Defiance, a sci-fi open world third person shooter. The event will run for two weeks; it begins at 8:00 AM PST (3:00 PM GMT) on Tuesday, February 9th, and runs until 7:00 PM PST (2:00 PM) on Tuesday, February 23rd. During the event, players in both games can complete activities in one game to unlock special rewards in the other.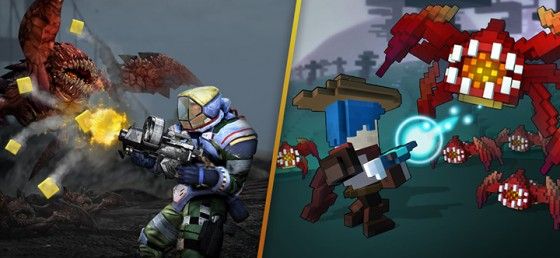 During this event, Defiance Hellbugs will be found throughout Trove, and players in both games can unlock special rewards. Players in Trove can unlock two new Hellbug mounts for use in the game, and players in Defiance can unlock the brand new Ground Pounder 3. The Pink Hellbug mount in Trove can be unlocked by killing the Hellbug Invaders found throughout Trove during the event to collect Skittering Heart Boxes. The Skittering Heart Boxes have a chance to reward the mount. To earn the Red Hellbug mount in Trove, however, players will have to log into Defiance and kill 50 Monarch Hellbugs from the Colony Courtship Arkfalls. Doing so will unlock this mount in Trove.
Defiance players who want to unlock the Ground Pounder 3 must log into Trove and fight their way to Battle Rank 5 in PvP. Doing this will unlock the Ground Pounder 3 for them in Defiance. Players who play Defiance on a console system should follow this link for instructions on how to link their console to their Trion Worlds account so they may claim the item in the console version of the game.
Our Thoughts:
This is a cool event, and it's a neat way to introduce players from one community into the other; hopefully obtaining the items is not something too time consuming for the cross-game players, though. A player who does not enjoy the new game, and who plays it just to claim the item, won't want to spend a great deal of time doing it.
Source: Trionworlds.com News Post
Related:
Defiance
,
Event (In Game)
,
News
,
Trion Worlds
,
Trove