The holiday season is in full swing in ARK: Survival Evolved with the arrival of that merriest of seasonal characters, Raptor Claus! The new seasonal event is just one of a few new ARK updates coming to Steam, Xbox and PS4 versions of the game.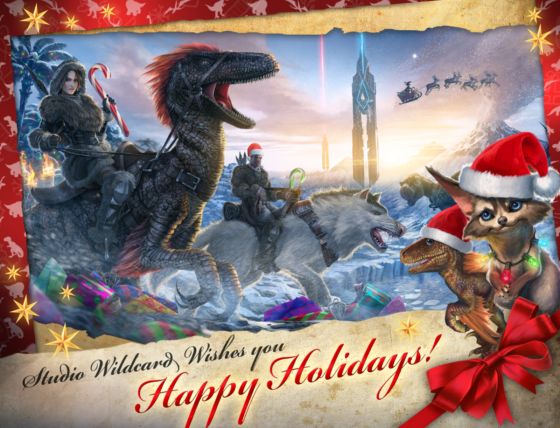 The Winter Wonderland 2 event taking place on all versions of the game tasks players with running down Raptor Claus and snagging the gifts he leaves behind, including loot, coal and other festive goodies. These items can all be used to craft holiday-themed items. Players on the PC version of the game will also get a special holiday item, which is teased in the newest trailer.
For those playing ARK on Steam, v253 is also arriving, which introduces some new underwater caves and five new creatures: Cnidaria, Troodon, Tusoteuthis, Pegomastax, and the Therizinosaurus.
These new ARK updates are available now, and the trailer for v253 can be seen below.
Our Thoughts
What's not to love about a holiday character named Raptor Claus? Other than the powerful teeth and talons and frightening speed, anyway. Winter Wonderland 2 sounds like a unique event like every other in-game event ARK has held, and v253 looks to be bringing a lot to explorers. We're eager to start!
Your Thoughts
What sounds the most interesting in these new updates? Are you looking forward to exploring v253, or does chasing after Raptor Claus suit you better? Tell us in the comments.
Source: press release
Articles Related to ARK: Survival Evolved
Free Survival Evolved Update Adding ARK TEK Tier Gear
Custom ARKs and New Dinos Arrive in ARK: Survival Evolved v248
ARK: Survival Evolved Free Update Adds New Map, Creatures
Related:
ARK: Survival Evolved
,
News
,
Seasonal Event
,
Update