What's arguably one of the most anticipated MMO releases for Nintendo Switch owners is finally here. Today marks the Warframe Nintendo Switch launch, bringing the hyper-sci-fi action MMO to the system and all of its five years of content.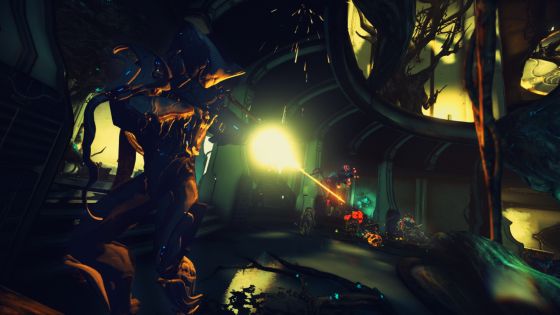 When the game's presser references five years of content, it does indeed mean the entire kit n' kaboodle — 23 updates, 36 Warframes, the open-world location of the Plains of Eidolon, and all the content up to Mask of the Revenant are packed in to the Switch's launch version.
Other features that are distinct to the Switch version are the inclusion of motion controls and built-in voice chat, which doesn't require the Nintendo Online app to use. As for the game's Prime Access program, that will include Nova Prime, Mag Prime, and Chroma Prime.
Future updates to the Switch release will focus on the latest Fortuna content like the new open-world location and Garuda Warframe. The devs expect the Switch version to have parity with all other console editions at some point in 2019.
To mark the game's arrival to the system, Warframe is giving out a bundle of items for free. This bundle includes 50k Credits, a 3-day Affinity Booster, a Forma, an Orokin Catalyst, and an Orokin Reactor. Players must claim this bundle from their in-game mail before December 4.
Our Thoughts
It will definitely be interesting to see how well Warframe plays on the Nintendo Switch and how big this game's community will grow as a result. In both cases, we expect good things for Warframe and want to congratulate all of the devs and publishers on the release.
Source: press release
Related:
Launch Date
,
MMO
,
MMORPG
,
News
,
Nintendo Switch
,
Release Date
,
Warframe