Warhammer: End Times – Vermintide has unveiled the Empire Soldier, the third of its five playable heroes.
"I've fought my share of battles against the beastmen of the woods, but these ratmen are different. The warherds are always driven by their bestial nature. They fight hard, but direct. The ratmen are cunning, clever."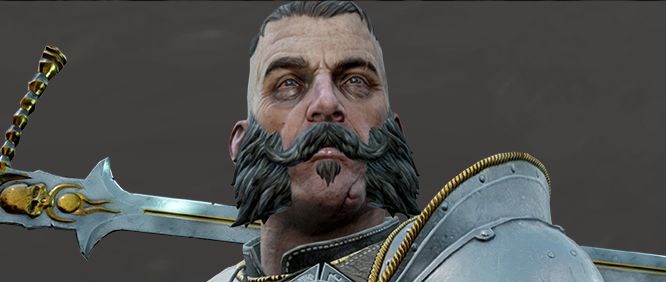 This war weary Empire Soldier is also deadly, and upon losing his regiment to terrifying death-magic, Markus Kruber decided that enough was enough and left the army life to return home to his native Ubersreik. Along the way, he found employment with Victor Saltzpyre, a Witch Hunter of the Order, who needed help in escorting the Bright Wizard, a new prisoner whose destination happened to be none other than Ubersreik.
The Empire Soldier was decided on because Fatshark felt as though they needed an Empire hero in the mix considering the setting of Ubersreik, so they went with a native in Markus Kruber who can both take a punch and also deal a large amount of damage in single strikes to compliment the Waywatcher and the Witch Hunter.
You can read more about Markus Kruber and his glorious mustache and beard combo at the Warhammer: End Times – Vermintide dev blog and the Empire Solider page.
Source: Press release
Related:
FatShark Studios
,
News
,
Vermintide
,
Warhammer