"Hello, and welcome to Xsyon, the apocalyptic fantasy sandbox MMORPG you have waited for so long. On your right, you'll see rocks, and on your left, you'll see even more rocks! Have a pleasant journey in this one-of-a-kind sandbox MMORPG." This is how I initially envisioned the newly introduced Welcome Station in Xsyon, but it's much more than that!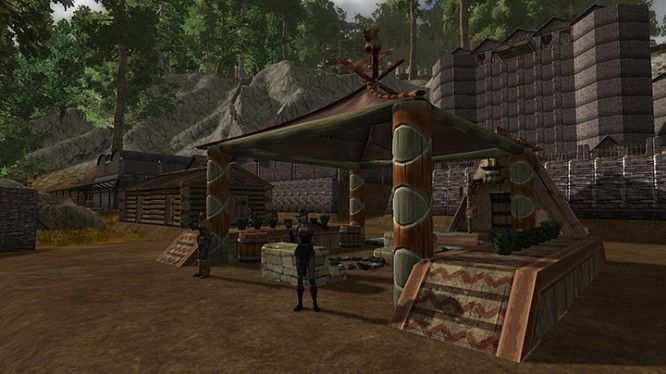 The Welcome Station makes the game more inviting by helping new players on their way. They allow existing tribes to stage entrance areas for new players. New players will arrive at these stations and can find nearby quests and items for sale. They can also leave messages at the Welcome Station and apply for tribe membership! Only tribe leaders and members with permissions can manage the stations and accept new tribe members while they are offline though.
The stations are designed to function as a focal point for town activity. They're supposed to draw in new players and introduce them to the entirely player run world of Xsyon. Having built extensive and really creative towns, it might be difficult for newer players to know exactly what to do. But with the recent building uses at disposal, tribes can expand their communities and welcome and trade with new survivors.
To celebrate the launch of the awesome new feature, Xsyon is on sale this week only through Steam with a 50% discount! So if you have always wanted to check the game out, this is your chance.
Our Thoughts
The first couple of minutes are extremely important in the decision-making of new players. Do they really want to continue playing a game that they don't understand? By helping new players in their first moments in Xsyon, they might be convinced to continue playing! We think the Welcome Station is a very nice change of pace for MMORPGs and other games should definitely look at this and perhaps implement something similar themselves.
Source: Press Release
Related:
F2P
,
Features
,
MMORPG
,
News
,
Notorious Games
,
Sandbox
,
Xsyon