Last time I was here, I was experiencing the new Necromancer class as a first-timer to Diablo 3. For the Rise of the Necromancer review, I'm coming with a tiny bit more experience under my belt as a player who has found enjoyment in Adventure Mode with a Crusader at Paragon 47.
Back then, I was enamored with Diablo 3's new class enough to get the full game. With the Rise of the Necromancer fully released, I can gleefully say that this new content has just reaffirmed my enjoyment.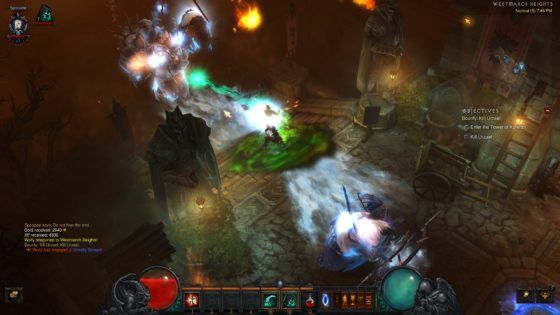 A Bloody Good Time
Say what you will about Diablo 3's idea of difficulty – you'd probably be right about it – but I play this game to blow masses of enemies apart and collect piles and piles of loot. For that, the Necromancer is absolutely perfect.
This time around, instead of a melee-centered build backed by a skeleton army, I decided to keep at a distance and bring along a big hideous golem to the party. Whether I'm playing an in-your-face build or a pet-centric ranged caster, everything about this new Necromancer class is empowering and enthralling. Particularly with the single greatest ability to ever grace this game, Corpse Explosion.
Not only does this skill sound like a heavy metal band, it makes recently slain enemies become landmines. Watching a series of these explosions erupt to cause mass slaughter is one of the most visceral sights in Diablo 3, bar none. You could slow down footage of the skill going off with Ave Maria playing in the background and it'd be a beauty to behold.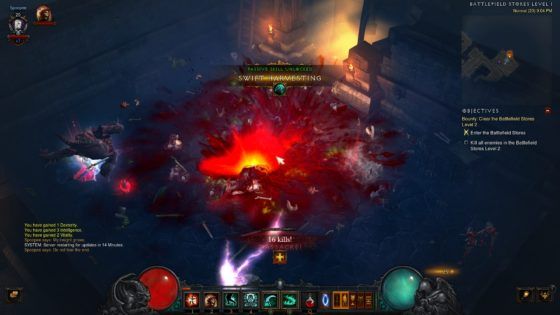 Of course, the Necromancer is much more than a single button, but Corpse Explosion is one of the best demonstrations of how much unhinged and unapologetic fun Diablo 3 can be. The Necromancer is soaked in ultra-edgy cheesiness, reveling in the slaughter it's capable of and quipping endlessly about maintaining the balance of nature while you cause dead enemies to blow up or have waves of undead horrors attack enemies. Necromancer don't care if it's goofy. Necromancer just wants to have fun.
Oh, There's Other Stuff Too
The other interesting addition to Diablo 3 with the launch of this new pack is the new Challenge Rifts feature, which grants you a fully-geared random class and urges you to beat a Greater Rift as fast as possible. While this really isn't my kind of thing, I can appreciate why others would find it a good time, and I definitely enjoyed seeing how a class I have personally never tried before works at a high level.
For me at least, this Challenge Rift actually brought some difficulty. I was never particularly fast enough, but I did get into points where I had to actually use a healing potion or three, which is more than I can say of my time in Diablo 3 to this point. Of course, that's more owing to the fact that this mode is really meant for D3 players greater than me; the sort who parses builds and keeps a tight focus on stats and the like.
It's a worthy addition to the game, but it's not really my thing. My thing will always be the Necromancer class itself. Happily, for those who aren't somehow keen on making corpses explode, this content is available for free as part of Diablo 3's latest patch.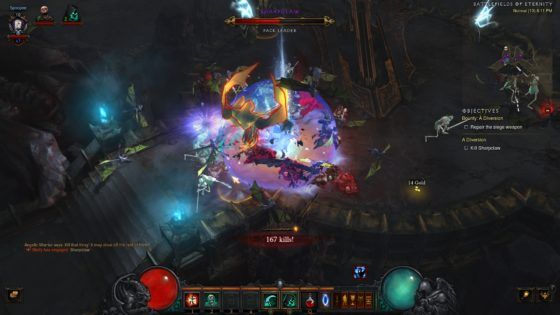 Blood for the Blood God (Me)
You'll notice that this review is not structured like our normal reviews. That's by design, as the Rise of the Necromancer pack isn't really a full expansion's worth of content. For about $15 you're getting a new class along with a couple of little in-game bonuses like a pet, extra Stash storage and two character slots. With that said, the Necromancer alone is absolutely worth the price of admission.
I can't stress enough just how delightful this new class is. It's every reason I've fallen for this game in a hyper-gothic wrapper. If you're already invested in Diablo 3, nothing I've written here is really going to change your mind as you've probably already gotten the pack. If you've never played Diablo 3 before, or are maybe not sure about whether this pack is worth it, I assure you that it most definitely is.
Get it. It's good. Review over. I need to blow up more baddies.
Final Score: 10/10
Related:
ARPG
,
Blizzard Entertainment
,
Diablo 3
,
Review
,
Rise of the Necromancer
,
Update