Divine Souls may not be not the best action MMORPG to come out this year, but it could certainly be a contender. In closed beta it had a number of bugs, none entirely game breaking, but those have been mostly addressed and corrected just in time for the impending open beta. So what is Divine Souls? Does it have anything that sets it apart from the current grind of MMORPG's on the market? There are a few bad things about it, I'll admit, but overall, the game does deliver some overwhelmingly good elements. For example, the action  based combat which is similar to Devil May Cry or even Prince of Persia. There are a number of great combos to pull off, and overall I find it to be a great game, full of promise. Let's start with the basics.
The game starts, as many games do, at the character selection screen. You are able to choose your class, though each class is gender locked, meaning if you want to play a slasher, you will need to contend with playing as a woman. The same holds true for fighter who is inherently male. Once you move past the character selection screen you will be treated to a cinematic and dropped into the main city, Elan Blude. I will say that the game does you the favor of not dropping you into an enormous fight from the outset as many action MMO's do, though instead give you a more traditional task of traversing the small main city and finding quests. The game is also very straightforward in that regard, seemingly wanting to help you dive into the action and fight as quickly as possible.
Combat consists of attacking, blocking, and the use of combos which tie into the skills you purchase over time using skill points and gold. Among these skills is a sort of 'devil trigger' for lack of a better term that fills as you fight endless waves of enemies in the game's beautiful and varied dungeons. This trigger, when filled, will allow your character to become invulnerable for a few seconds while dealing damage to all of the enemies in your immediate area. Because it is so difficult to fill this trigger however, we strongly recommend that you save it for boss encounters as they can be especially rough.
Moving on to the world of Divine Souls, there actually isn't much to see beyond cities and various outposts. Rather than traversing a huge overworld you will simply walk to the portal at the edge of the area and choose which are you would like to visit. There are limited locations on the world map to warp to, though they branch off into five or more different dungeons when you get there. In each city you will find quest givers as well as vendors, though keep in mind that not every city is equal in what it offers. One thing I did find however, was that each city seemed to have an enchanting station and a potion merchant, which, is really all you need until you've leveled up and are ready to head back to Elune for armor or weapons.
Getting around the larger cities (Elune) is pretty simple as you need only pull up your map and click on the NPC you wish to visit. Your character will automatically run to said NPC, though it would be within your best interest to make sure you're not standing next to a wall as you initiate the run or you might find yourself face planting into a wall. Needless to say, they need to work on the path finding a bit.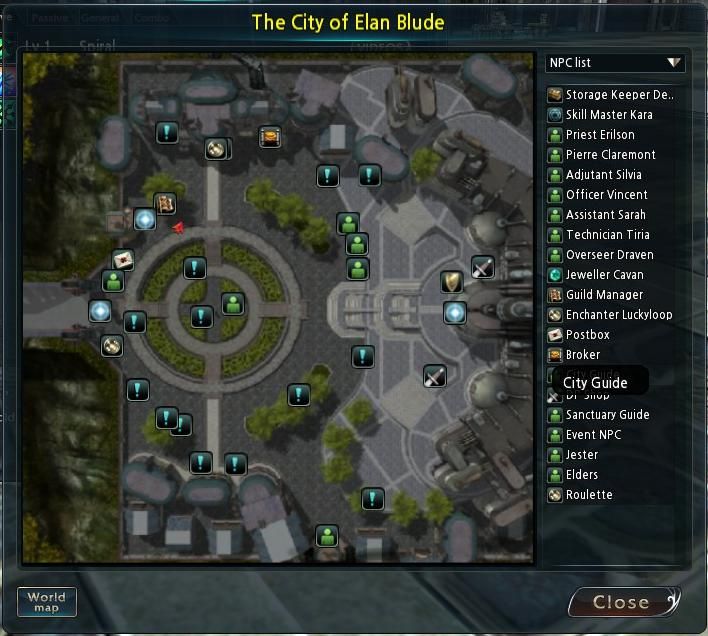 All of this seems pretty standard for a launch MMO, but the one thing I was super impressed by was the guild hall! That's right, Divine Souls offers a guild hall, though it is a little bare at the moment. Anyone who is level 20 and possesses 10,000 gold will have the opportunity to start their own guild by visiting the Guild Manager in Elune. Once done, even if you are the sole proprietor and member of your guild, you will gain access to the guild hall, which, if nothing else, is a welcome extension to your inventory via the guild bank.
I have to admit that all of this might sound pretty dull without the prospect of PVP, but fortunately, that is where Divine Souls shines. All of your dungeon experience will pay off as you enter the PVP arena and face off against other players of equal, lesser, or greater skill than you, and if you really want to take it to the next level, you can take your guild to the battlegrounds to face off against other guilds. Who is the best guild on the server? Well you're certainly going to find out.
As with most MMOs released today Divine Souls has an extensive in game cash shop. You will find that the premium store, accessible from the lower right corner of the game's interface contains a category for each character class and relevant items. In addition to that, there are consumables that will increase the size of your inventory or bank, giving you more space to store your wares after you get back from a day of dungeon running. These cost real money, but considering the amount of loot that will drop for you, it will be well worth the expense if you plan to invest any time into the game.
Finally, let's talk about the level cap. Divine Souls enforces a cap of 40, which may seem low, but it gives every player a chance to level to the cap (fairly quickly) and jump into the more advanced aspects of the game. Once you reach the max level there is still plenty to do, from PVP fights to eight player raids on high level bosses. In addition to that, you have the option to expand your skills as well as weapon capabilities. Enchantments permit you to increase the power of your weapons up to level 9, and you are even granted the ability to enchant your skills, giving them more power in both dungeons and the PVP arena. The team behind Divine Souls has done a great job of ensuring that this game will last players all the way to the level cap and far beyond. I personally plan to play it quite a bit. Even after the primary dungeons and questlines have been completed, there is always a reason to come back, whether it is for PVP, or to simply run through some of the old dungeons for extra enchanting/crafting materials.
Pros
+Game moves fluidly, combat is outstanding
+Plenty of side quests
+Guild Support + Housing
Cons
-Bad voiceovers
-Short dungeons
-Gender locked classes
Related:
Action
,
Beta
,
Divine Souls
,
Preview
,
PvP