Just when I thought Logitech was all out of surprises, a completely new take on its gaming keyboard was released. The Logitech G613 has a lot of features that other keyboards in the Logitech G line have: Romer-G mechanical switches, customizable G-Keys, dedicated media controls, and compatibility with the Logitech Gaming Software. However, there are a few very important things that are missing.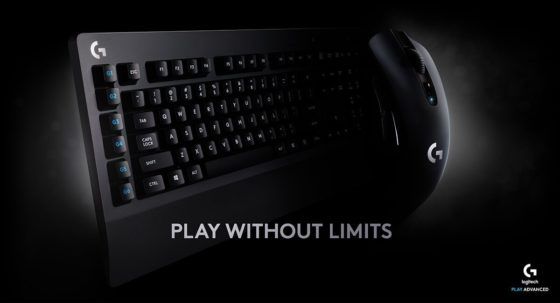 The most obvious is the cable. The Logitech G613 is the first ever wireless gaming keyboard. While this might sound like an oxymoron to the battle-hardened gaming veterans of old, the Lightspeed technology in the new Logitech G line is on par performance wise with typical corded peripherals. When connected wirelessly, the G613 has an impressive 1ms report rate (a thousandth of a second) making it impossible to tell the difference between it and a physically connected product. In addition to the standard wireless connection, it can also be switched to Bluetooth with the press of a single button for multi-host connectivity.
Another obvious difference is that the G613 doesn't look like any of the other keyboards in the Logitech G line. It doesn't have an 'edgy' design or crazy backlit color combinations. In fact, there's no backlighting at all. This is most likely to increase battery life, but there have definitely been some complaints about Logitech G keyboards not looking professional. Personally, I enjoy the humble design of the G613 because it doesn't draw too much attention to itself.
Speaking of battery life, the G613 is supposed to last upwards of 18 months. A huge concern among gamers when it comes to wireless products is having to replace batteries in the middle of an important match or raid. I would say that having to replace batteries less than once a year is probably acceptable for most people. While I can't attest to exactly how accurate that 18-month estimate is, I have been using the same batteries in this G613 review model for at least 8 hours a day for more than a month and the charge is still at full bars.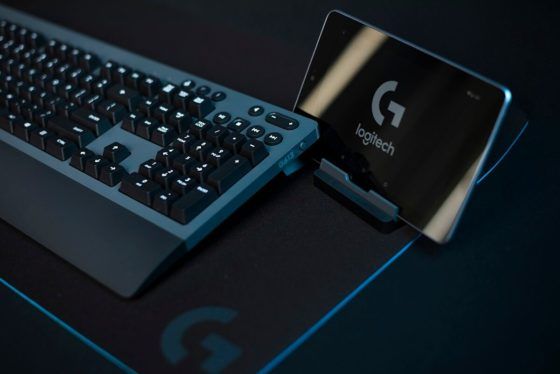 Besides the lack of cable and backlighting, the design for the G613 is also much studier than other Logitech G models. I currently have a G910 plugged into my secondary computer. It creaks and groans when I pick it up; I feel like I could break it without too much effort. On the other hand, the G613 is one very sturdy piece of hardware. The wristpad and keyboard are one solid unit and there aren't any flimsy plastic pieces that could accidentally break off.
Despite this improved design, it's also lighter and more compact than the G910. That being said, I wouldn't exactly call the G613 lightweight either. It still weighs in at 3.2lbs and has dimensions of 18.8 x 8.5 inches. Like other Logitech models, there is a lot of extra material around the border and the G-Keys take up about an extra inch of space. There's nothing 'compact' about the G613.
If you've used any previous Logitech G keyboards, most of the other specifications are still the same. The Romer-G switches still feel very response and are supposed to be 25 percent faster than the competition. After going back and forth between Romer-G and Cherry MX Brown keys, I really can't tell that much of a difference. It should be an easy transition if you're thinking about switching from Cherry MX to Romer-G keys. The G613 is also still compatible with both the Logitech Gaming Software and the Arx Control application, however, the only real functionality is modifying the G-Keys and monitoring battery life due to the lack of lighting options.
The Logitech G613 retails at $149.99 and can be purchased through the official website. If you're in the market for a wireless gaming keyboard then there aren't a lot of options around. Thankfully, the G613 is a solid product that doesn't cut corners where it matters.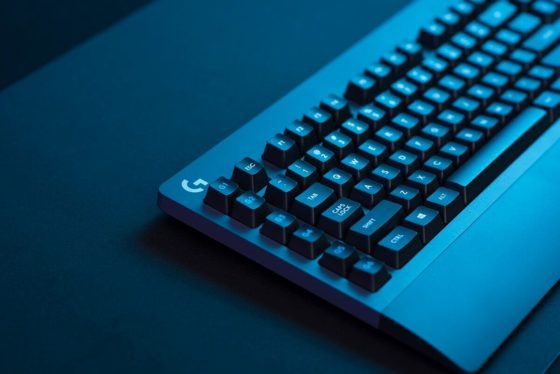 Overall 8.5/10
Pros:
+ Gaming performance with wireless capabilities
+ Long battery life
+ Sturdy design
Cons:
-Expensive
-No backlighting
-Large form factor
Related:
Hardware
,
Logitech
,
Logitech G613
,
Peripheral
,
Review