With all kinds of messenger bags, briefcases, and backpacks on the market, it can be difficult to choose the right one for the job. I recently purchased a new laptop, MSI GT62VR Dominator Pro, which is quite a bit larger and heavier than my previous one. This meant I needed to upgrade my traveling gear and Solo just happened to be looking for someone to review the Altitude Backpack.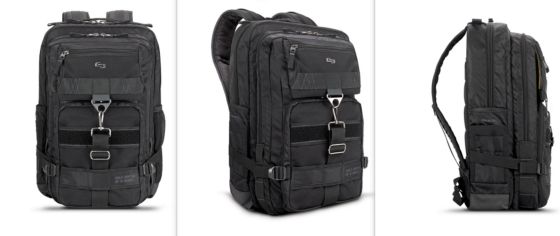 According to Solo, the bag is "designed to take on every adventure with lightweight, ultra-durable parachute nylon." With a form factor of 18.50" x 12.6" x 4.92" and weight of just 2.2lbs, it definitely meets the lightweight criteria. It has enough room for a hefty 17" laptop and a couple days' worth of clothes or other travel items. From a durability standpoint, it also has one of the most solid designs I've seen from a civilian bag. It uses military grade Velcro, parachute lining and solid metal zippers.
I've been using the Altitude for the past month, taking it from Los Angeles (E3) to Canada (TennoCon). In between conventions, it's served well as a daily use bag and has even survived a handful of tug-of-war sessions with my dog. As someone who travels quite a bit, I've had my fair share of zippers or buckles break, shoulder straps fall off and lining tear in my bags. So far, there is virtually no sign of wear and tear on my Altitude bag.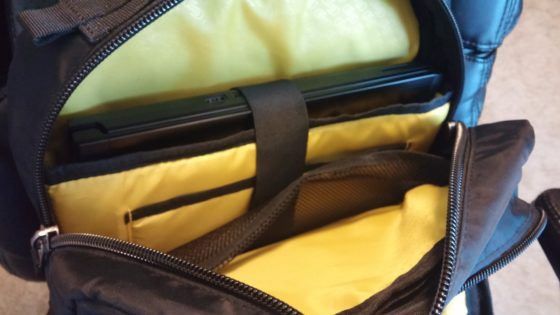 Comfort: 7.5/10
While generally well-balanced, the Altitude doesn't have a lot of padding on the shoulder straps. If you're not carrying a heavy load, it's barely noticeable. However, if you're toting around more than 20lbs for long distances it can start to wear on your shoulders. It doesn't necessarily become painful, but I have used more comfortable bags.
Design: 9/10
The Altitude makes excellent use of space and performs its job incredibly well. The fully-padded laptop compartment isolates your hardware to prevent scratches and damage. After significant plane, car and foot travel my GT62 doesn't have a scratch on it, despite a few bangs and drops.
As far as storage goes, there are two main compartments, two front zippered compartments, an elastic compartment under the upper front flap, and a water bottle holder on the side. Each of the main compartments is sectioned off for a number of different uses, which gives the bag a lot of flexibility for use. The stretchy, parachute material also allows the backpack to easily expand from its original compact design. Despite seeming small, the Altitude can hold quite a lot.
One of my favorite aspects of the Altitude is its industrial design. It manages to look sleek with its emphasis on metal components without appearing overly flashy. It's a bag that looks cool and functional without screaming "I need attention."
Durability: 9/10
This thing is definitely heavy duty. Almost every component from the zippers to the clasps are made of metal. In fact, the only plastic components on the entire bag are the buckles on the sides and shoulder straps. This is my sole complaint because the shoulder straps are usually the first point of failure on a backpack and I wish they could have incorporated a metal design here as well.
Value: 7.5/10
If you're looking for a budget bag, this is probably not for you. With a price point of $79.99, the Altitude is available through the Solo website, Amazon, Best Buy and a few other retailers. It's worth the money for what you get, but you need to really make use of it to beat the value of cheaper bags.
Overall: 8.5/10
The Solo Altitude Backpack isn't a carrying case for everyone. It's designed for people who do a lot of traveling and want to protect their computer from damage. If you need a safe way to transport your laptop, whether it's for conventions or LAN parties, then the Altitude might just be what you need. However, if you only do light traveling, or prefer a smaller messenger style bag, then there are cheaper alternatives.
Pros:
+ Excellent laptop protection
+ Durable / compact design
+ Lots of storage space
Cons:
– High price point
– Shoulder straps could use more padding
Related:
Accessories
,
Backpack
,
Review
,
Solo