Gigantic is a team-based third-person team shooter and MOBA hybrid where heroes battle alongside a massive guardian in a fight for supremacy. Gigantic sports an over-the-shoulder third-person shooter format, allowing for better mobility and precise aiming. A mystical bond connects you and four teammates to your guardian, a magical behemoth too powerful for a single mortal to defeat. Protect your guardian as your team charges across the battlefield, then see it crush your enemies underfoot! To celebrate the launch of Gigantic, and to help players get a solid and fun start in their battles, Perfect World Entertainment and MMOGames have teamed up to bring  you this special Gigantic Airship Supply Pack Giveaway for Steam. Get your key now, and get a pack full of special skins and helpful boosts!
NOTE: The keys from this giveaway are only for Gigantic played via Steam. They will not work for other platforms.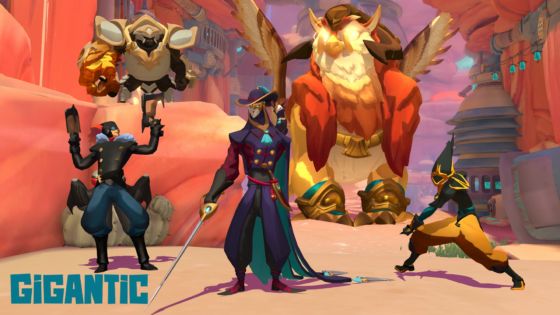 What You Get From The Gigantic Airship Supply Pack Giveaway For Steam
Tyto the Swift's The Valerian Skin
Beckett's Iron Tower Skin
Margrave's Seraphe Betrayer Skin
Tripp's Citadel of Amber Skin
10x Win Crown Boosts
10x Win Prestige Boosts
Sign Up To MMOGames To Claim Your Key
Register to our website.
Verify your email.
Once it's verified, head on over to the 'Giveaway' section and claim your free key!
How To Redeem Your Gigantic Airship Supply Pack Key
Since the game is played through Steam, you must have the Steam client installed. If you do not, go here to install Steam.
Visit www.GoGigantic.com/steam
Click on the "Play Game" button and download Gigantic.
Launch the game and create an Arc account.
Once in the Gigantic launcher, select the "Redeem Code" button.
Enter the code and click "Next" to claim your pack.
Enjoy Gigantic!
This is a limited code giveaway to be given out on a first-come-first-serve basis. It will run as long as there are keys available. If you have any issues, please contact us.