Kritika Online is a Korean fantasy MMOARPG featuring a unique cel-shaded art style, over-the-top animations and a fast-paced combo system that reinvents traditional rules of play, and which is being brought to Europe and North America by En Masse Entertainment! You work together as a team to aggressively clear compact instanced dungeons—known as danger zones—quickly and efficiently. The faster you clear the dungeon, the better your loot at the end, so its a great game for min-maxers! The western version of the game has just gone live on Steam, and to celebrate En Masse Entertainment and MMOGames have teamed up to bring you a special giveaway. Get a key now from the Kritika Online Steam Launch Pack Giveaway, and get some special upgrades and items to help you on your path to greatness!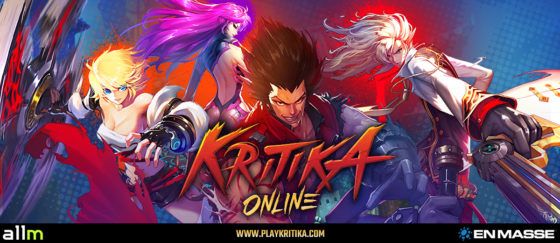 What You Get From The Kritika Online Steam Launch Pack Giveaway
Sign Up To MMOGames To Claim Your Key
Register to our website.
Verify your email.
Once it's verified, navigate back to the Giveaway section and claim your free key!
How To Redeem Your Kritika Online Steam Launch Pack
Note that these keys are for the Western version of Kritika Online, published by En Masse Entertainment. They will not work in other versions.
If you don't already have one, sign up for an En Masse account at https://account.enmasse.com/kritika/sign-up
Download the En Masse launcher at https://kritika.enmasse.com/download or install through Steam
Install and run the launcher or launch it through Steam and sign in with your En Masse account
Select the Kritika Online tab and click on the "Redeem a Code" button
Enter your code and click the "Submit" button.
Enjoy Kritika Online!
This is a limited code giveaway to be given out on a first-come-first-serve basis. It will run as long as there are keys available or until October 5, 2018. The keys expire on October 5, 2018, so be sure to redeem them before then.  If you have any issues, please contact us.