Mighty Party is a free to play, fast-battle and tactical card online RPG, which successfully combines diverse features into a fun contest of heroes! With simple and addictive gameplay, Mighty Party will draw you in. You need one click to put the new fighter onto the battlefield, and battles only last for 3 minutes! A true test of tactical skill, you must exploit your opponent's mistakes and weaknesses, while doing your best to prevent them exploiting yours, and Panoramik and MMOGames have teamed up to help you do exactly that! Get a key for the Mighty Party Battle And Toads Pack Giveaway, and get a pack full of fighters to help you overcome your enemies!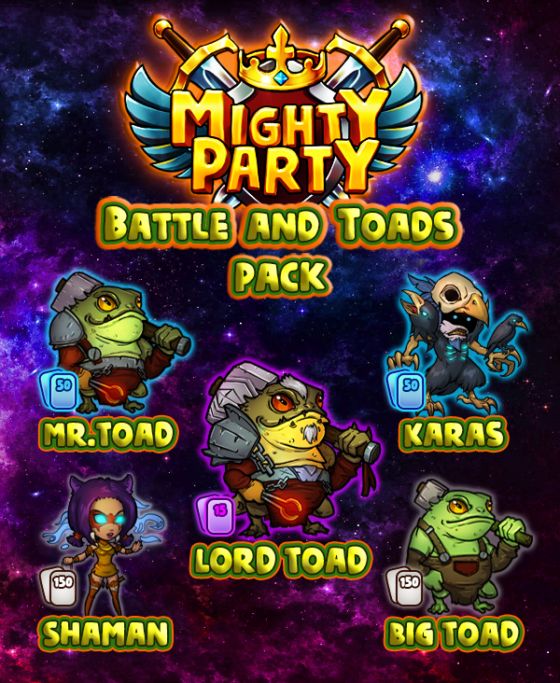 What You Get From The Mighty Party Battle And Toads Pack Giveaway
Lord Toad x 15 – Epic Hero
Mr. Toad x 50 – Rare Hero
Karas x 50 – Rare Hero
Big Toad x 150 – Common Hero
Shaman x 150 – Common Hero
Sign Up To MMOGames To Claim Your Key
Register to our website.
Verify your email.
Once it's verified, head on over to the 'Giveaway' section and claim your free key!
How To Redeem Your Mighty Party Battle And Toads Pack Giveaway Key
Since the game is played through Steam, you must have the Steam client installed. If you do not, go here to install Steam.
Since the game is free to play, you just need to login to your Steam account and press play.
Launch the Steam client software and log into your Steam account.
Click the Games menu.
Choose Activate a Product on Steam.
Follow the onscreen instructions to complete the process and obtain your items.
Enjoy Mighty Party!
This is a limited code giveaway to be given out on a first-come-first-serve basis. It will run as long as there are keys available. If you have any issues, please contact us.