TERA is a free to play fantasy MMORPG for PC, Xbox One, and PlayStation 4, featuring intense action-based combat in an open-world environment. Enjoy stunning visuals and a complex political system in which you can become the ruler of a province within the world. Set your own laws in TERA, charge players tax and enforce your leadership upon the weak. Create your character and begin telling your story; who knows where you might end up!
Once you've done that, grab a key from our Reach Your Apex giveaway, held in celebration of the event currently going on in TERA on PC! This will activate a mount, cosmetics, and consumables to enjoy and help you level up and get the most out of the event bonuses in-game. So grab your key, tell a friend, and reach your apex!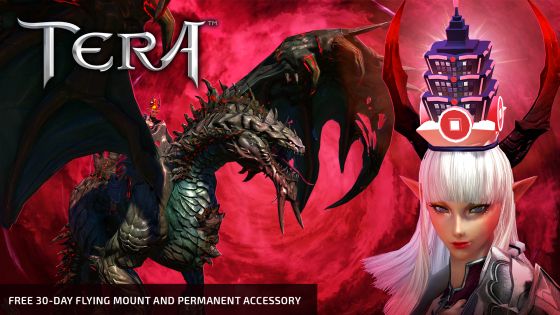 What You Get From The TERA Reach Your Apex Giveaway
1 – 30-day Duskwing Mount: Use this manual to learn how to summon Duskwing, a dragon mount with a Flight and Movement Speed of 290 that restores 1% of your max HP and MP every second. Learning this flying skill also grants you the passive skill Tenebris Rex, which provides a chance to increase your Crit Power by a factor of 1.5. While mounted, you may use the skill Dark Roar, which increases the damage you deal to monsters for a short time after you dismount. Using Dark Roar starts a 24-hour cooldown which may prevent the use of other mount skills.
1 – ALL YOUR TOWER ARE BELONG TO US permanent head accessory: Somebody set us up the bonnet.
1 – On Fire Effect potion: Fire engulfs you, increasing your Attack Speed by 5%, while reducing your HP by 75% and healing you receive by 85%. Your body burns brightly!
3 – Friendly Feat consumables: A spicy repast consisting of Freeholds Flame Salad, Traditional Bleakfields BBQ, and Bleak Wings. Increases restored HP by 9% for 15 minutes, maximum HP and MP by 5%, and Crit Resistance by 20. Affects you and up to 20 people within a 20m radius.
20 – Valkyon Health Potions: Potion supplied by the Valkyon Federation. Recovers 50% of your HP.
How To Redeem Your Reach Your Apex Giveaway Key
Go to https://account.enmasse.com and create a new En Masse account or log into an existing one.
Click the "Redeem Code" button from the "Account Overview" page.
Enter your code and hit "Submit".
Launch TERA and log in. If you haven't installed TERA, download it from: http://tera.enmasse.com/download.
Claim your items from your in-game Item Claim.
How To Claim Your Key
Register to our website.
Verify your email
Once it's verified, navigate back to the Giveaway section and claim your free key!
Important Notes
These keys are for the North American PC client run by En Masse Entertainment only.
They will expire on Wednesday, October 31st.
This is a limited code giveaway to be given out on a first-come-first-serve basis. It will run as long as there are keys available or until 12:59PM on Wednesday, October 31. Each user may only redeem one key and they will only work for the North American PC client for TERA. If you have any issues, please contact us.