Stronghold Kingdoms is the world's first persistent castle MMO which invites you to become a feudal lord, build a stronghold, and lead your people to glory. Join thousands of players online as you build your village economy and design a mighty castle to protect it. Farm peacefully, engage in political mind games, seek vengeance on your sworn enemies or lead your armies to glory across a vast map of medieval Europe. Siege other players, battle AI opponents, research new weaponry, forge alliances with player Factions and fight for the eternal glory of your House.
When the 2008 credit crunch caused funding to disappear for Firefly's upcoming hack-and-slash console RPG Dungeon Hero, the company decided a change was needed. A skeleton team of four developers prototyped, iterated and released a closed Alpha for Stronghold Kingdoms, Firefly's first foray into the world of free-to-play. Over the next two years the Kingdoms player base grew from tens to hundreds of thousands. The game entered open beta in 2010 and launched on Steam in early 2012, reaching one million registered players by July 2012. It would remain in the Top 10 Most Popular free-to-play games on Steam for over two years, with more daily active players than games from collosal IPs such as Lord of the Rings Online and DC Universe Online.
Stronghold Kingdoms Key Features
Build an Online Stronghold – Defend your territory with impenetrable castle defences and fiendish traps.
Rule Your Parish – Build a castle in your hometown and wage war on your neighbours across the UK, Germany, France and Europe!
Become a Noble Lord – Trade, scout and explore in a medieval world filled with thousands of other players.
Explore a Vast Tech Tree – Become a warlord, trader, farmer or diplomat by researching new upgrades and structures.
Lead Your Faction – Forge alliances with other players and become their elected leader in a player-controlled political system!
Play for Free – Stronghold Kingdoms is completely free to play, with no upfront payment or subscription required.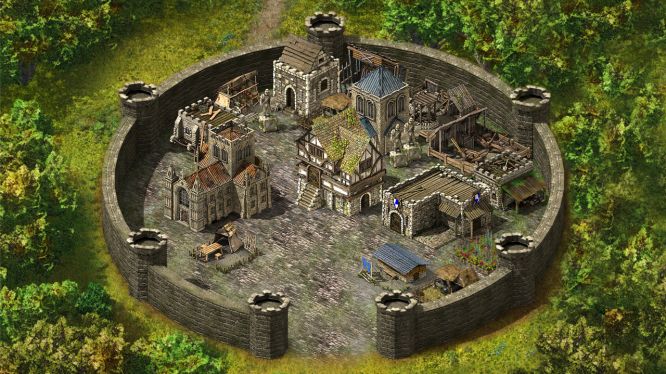 Related: Dungeon, F2P, MMO, RPG
Read more about Stronghold Kingdoms