I used to hold the conviction that MMORPGs and their small siblings, console RPGs, were by far the best stop for a great videogame soundtrack. Role-playing games tend to come with vast worlds and long storytelling so it makes sense that they receive more elaborate scores than shorter games with much quicker, level-based gameplay. That's not to say that other genres haven't seen their share of great music – from Smash Brothers to Halo and Super Meat Boy, there is much to love where talented composers are at work.
In recent years, more and more MOBAs have taken the world of online gaming by storm and many prove to be a similar goldmine for MMO music the way MMORPGs have since the early days of Ultima Online and Everquest. As someone who isn't particularly into competitive eSports, I ignored this genre's music for far too long despite titles like Dota 2 boasting legendary MMORPG composers like Jason Hayes. Today, I want to talk about one such unexpected gem: the music of League of Legends!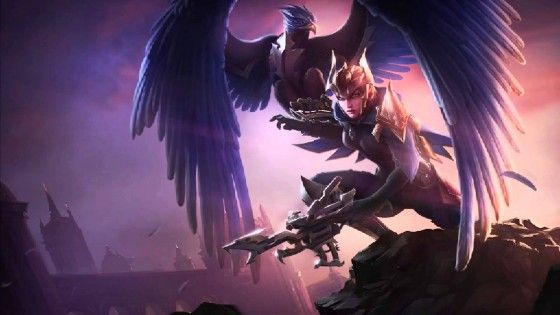 The official League of Legends SoundCloud page is the best place to catch up with this MOBA's enormous soundtrack backlog. The page is updated regularly and does not only feature main tracks by lead composer Christian "Praeco" Linke, but a huge library of remixes by various artists and fans. It's the many remixes and seasonal tracks that bring a big variety of flavor to League of Legends, from electronic music to western tunes and heavy metal.
As far as main albums go, the official League of Legends soundtrack "Volume 1" is both available on SoundCloud as well as Riot's official webpage. I cannot give enough praise to a developer who not only cares enough about a game's soundtrack to make it easily available to fans, but makes it available for free! And such an album it is; the most beautiful arrangements by Christian Linke have made their way on that first installment of hopefully more to come.
Most of the tracks featured on Volume 1 are title tracks for different playable champions in the game and are therefore heavily influenced by the theme and background of the characters they were written for. This was done to such an amazing level of depth and emotion that I have been thoroughly impressed by the work of such a young and relatively unknown composer. I look forward to hearing a lot more from Christian Link in the future!
Five Picks for an Introduction to the Music of League of Legends
The list of League of Legends champions to choose from is a long one. It must have been a joy to create music for such a plethora of different characters and archetypes that each come with distinct features. As a sucker for traditional fantasy themes, most of my picks are champion tracks rather than remixes and tournament music for the various seasons of League of Legends.
1. Tidecaller
Tidecaller is the musical introduction to Nami, a naga champion who commands the waters with her magical staff. The track captures the dynamic of her element in stunning ways, starting off as a gentle, playful stream only to accelerate further down the line, conjuring up vivid images of rapid currents and waterfalls splashing over rocks. It is pure magic when a soundtrack evokes mental imagery that fits the story and setting in a game as faithfully as this!
2. Quinn and Valor
Quinn and Valor, a markswoman and her eagle companion, lie at the heart of this monumental tune that tells a story of friendship and heroism. Once again, the arrangement and choice of instrumentation echo the story behind the music brilliantly: the quieter, lyrical parts of this track alternate with epic trumpets and drums to form an unforgettable duet between two united forces. You can virtually see Quinn and Valor going to battle together. If you enjoyed this track, check out Poppy, Keeper of the Hammer for similar heroic feels!
3. Lulu and Shaco's Quirky Encounter
If I was ever asked to come up with a track about a jester and a fae meeting, it would need to sound like Lulu and Shaco's Quirky Encounter! This track is a theatrical delight, whimsical and full of the type of dark carnival references that are frequently associated with Danny Elfman's work. If I had one gripe with this track, it would be that it isn't nearly long enough – I want more, so much more!
4. Winter Wonder Orianna
This sparkly piece sounds every bit as festive and magical as the season it's been written for. One of League of Legend's mage champions, Orianna's track was featured as the login theme to the Snowdown Showdown in 2014, a returning, annual winterfest event in League of Legends. Grandfather Winter would be proud of this one!
5. The Curse of the Sad Mummy
League of Legends' infamous tale of Amumu, the sad mummy tank, is known to players inside and outside of the game. With lyrics provided by Christian Linke, Amumu's story has been told both as animated feature as well as a written tale on the official website. Both heartbreaking and mildly comical, the cinematic illustrates Riot's great forte of creating unforgettable, animated trailers. Speaking of which, don't miss A Twists of Fate or A New Dawn if excellent MMO trailers are your thing!
Final Verdict
Would I buy? – Yes!
Who is it for? – Everyone!
The League of Legends soundtrack comes with so much variety that I recommend browsing the official SoundCloud page to anyone, no matter their particular taste in MMO music. There's something to be found for everyone and Riot keep updating the page in regular intervals. I would also like to mention League of Legend's Frequencies, a page dedicated to all League of Legends related music, featuring an official documentary on the creative process. Did I mention Riot really cares about its music? Oh and you can also get that Pentakill heavy metal album on their website – you guessed it, for free! If only we saw this kind of dedication for all games out there..
Related:
A Bard's Tale
,
Column
,
League of Legends
,
MOBA
,
Music
,
Riot Games