Even though E3 2017 is a bit more crowded this year, due to the admittance of an additional 15,000 public attendees, there have still been plenty of great announcements and awesome games to check out early. Despite the 'doom and gloom' forecast that many predicted for this year due to overcrowding, all appointments remained on time and lines continued to move at a steady pace. During this first day of this year's E3 event, I had the opportunity to preview Bandai Namco's upcoming lineup, get hands-on experience with Dauntless and Raiders of the Broken Planet, and check out some cool new headsets from LucidSound.
Bandai Namco Shows Up Strong
With such a varying degree of titles under its belt, ranging from Dark Souls to Gundam, Bandai Namco is one of those publishers who can be rather 'hit and miss' at conventions like E3. This year, however, the studio managed to hit a home run with Ni no Kuni 2: Revenant Kingdom and Dragon Ball Fighterz.
The latest JRPG from Level-5 has managed to improve upon the previous title in terms of both gameplay and visuals, which is already an impressive feat. Set hundreds of years after Ni no Kuni: Wrath of the White Witch, we were told that Ni no Kuni 2 would have an even more engaging story by enhancing the way gameplay and animation are merged together into a unique experience. They also upped the ante by bringing both team members from the original game as well as the award winning Spirited Away.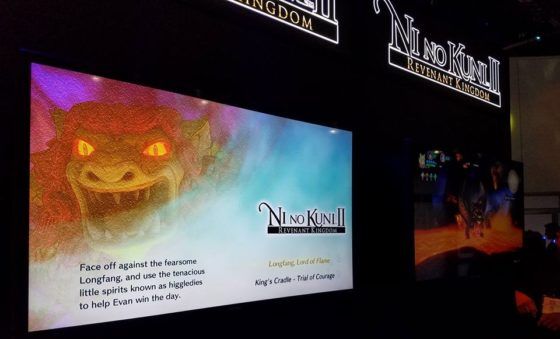 From what I had the opportunity to play, Ni no Kuni 2 is going to be even better than the first. Besides the noticeably better visual quality, there have been a few other upgrades to the game. Most importantly, the lackluster combat from the original has been completely reworked. There will also be a new kingdom building mode where players can expand the influence of young king Evan Pettiwhisker Tildrum as the game progresses. I was able to test the new combat system during two separate boss encounters, which gave me a decent representation of what to expect in the full game.
Instead of summoning familiars, players control Evan, who can use a variation of melee and magical abilities, and his companions. Additionally, Evan can call on the assistance of elemental creatures known as Higgledies that can enhance his abilities or summon protective spells. While keeping the core aspects of the RPG intact, Ni no Kuni 2 has taken on a more action-oriented combat system that feels much smoother and more responsive than what was present in the first installment.
Ni no Kuni 2: Revenant Kingdom is scheduled to official release on November 10 for PlayStation 4 and PC (through Steam).
Although there have been tons of DBZ games released throughout the years, none of them have truly been competitive fighters. While some of them have been fun in their own right, there was always something found lacking. That's about to change with Dragon Ball Fighterz.
Arc System Works, the team that brought you the critically acclaimed Guilty Gear Xrd, has teamed up with one of the most influential anime titles in history to create one of the most hype-inducing 2D fighters we've ever seen. Dragon Ball Fighterz will feature 3v3 tag-team combat, intense super abilties, assists, ultimate assists and 'vanishing' attacks that lead to non-stop action. There's just nothing quite as satisfying as landing a 30+ hit aerial combo and ending it with a massive Kamehameha.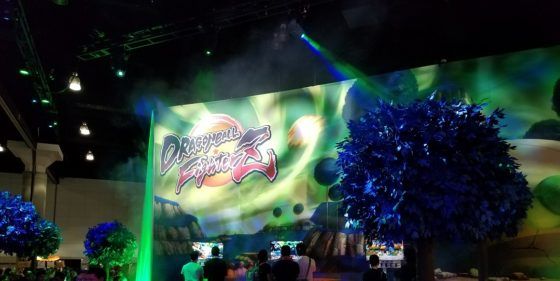 So far, the lineup is confirmed to have Vegeta, Goku, Gohan, Cell, Buu, and Frieza. There were no hints as to additional characters or the expected roster size. However, the characters currently available feel incredibly well done. The animations are responsive and feel like they're straight out of the anime; there are no canned or reused visuals. Combat is definitely on the faster side, especially when compared with more recent fighters from franchises like Injustice, Tekken or Marvel vs Capcom, but the basic controls seem intuitive and relatively easy to pick up.
Unfortunately, you'll have to wait until early 2018 to finally prove that Vegeta can take Goku in a fair 1v1 throw down. However, for those who can't wait, beta access was teased to begin shortly.
Dauntless Tackles Co-op Monster Slaying
If you've ever wanted a strictly co-op version of Monster Hunter then you might want to keep an eye on Dauntless. Until recently, there hasn't been a lot of publicly disclosed gameplay for the action RPG, but I had the opportunity to play through a few missions with the development team. While it's definitely still rough around the edges, Dauntless is definitely shaping up to be a unique experience that can be enjoyed with friends.
Players will set out on monster slaying adventures with up to three other friends in various biomes with varying degrees of difficulty. Generally, there's one main target per mission, but there can also be some smaller wildlife depending on the mission area. After hunts are completed, players will earn ingredients to craft new sets of weapons or armor; sorry but swords don't just magically drop off of beasts in this game. Additionally, there is no linear character progression, instead it's all based on the gear you craft.
We went on a total of three behemoth hunts, each becoming increasingly difficult with more hit points and deadlier attacks. The first behemoth we encountered was the Pangar, which looked reminiscent of the ankylosaurs. While it thrashed about a bit and had some powerful attacks with its tail, it was more of a punching bag than anything else; we took it down in no time without much difficulty.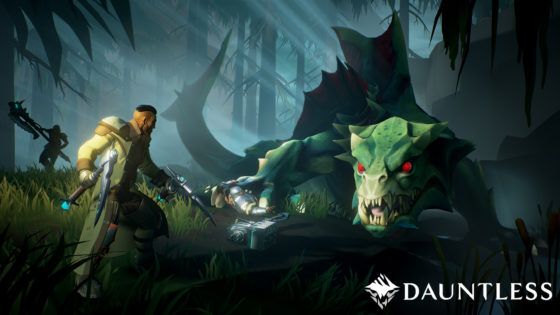 Our next target was the fierce Embermane (think rhino with spiky projectiles). This time our team had a bit more difficulty as the beast enraged early and dealt major damage with its spikes. However, we eventually adapted and learned to avoid its more deadly attacks, and we eventually managed to slay the beast. In our final hunt, we challenged the deadly Shrike (owlbear). He was fast, powerful, and a clever little devil. We managed to surround it twice after luring it to an open field, but each time he fled before we could deal the killing blow. In our third attempt, the Shrike ambushed our team while attempting to heal and turned the hunter into prey with a series of well placed ice attacks.
In the end, we didn't walk away with our prize, but I did have a fun time with Dauntless. The game still needs a lot of work and polish, but what's there feels good. The movement and attack animations feel like they have weight and meaning, which is incredibly important in this type of game. The developers reinforced that it was necessary to make every action feel like it had importance in order to allow players to advance in the game based on their skill.
While currently in an alpha state, Founder's Packs are available to grant early access to Dauntless for those really interested in seeing the game as it develops. Once launched, the game will remain free-to-play with a focus on monetizing cosmetic aspects, such as dyes, and providing small boosts to materials obtained from hunts.
Raiding Broken Planets
Developed by Mercury Steam, Raiders of the Broken Planet is a story-driven co-op shooter and was the last game I had the chance to preview on Tuesday. It has an emphasis on cover-based shooting, which prioritizes strategy and stealth over run-and-gun style mechanics. There is also a very colorful cast of characters that each has their own unique weapon loadout and playstyle.
Unfortunately, cooperative play wasn't setup at the Microsoft booth, so I only had the opportunity to test out the game in single-player mode. I feel like this kind of diminished the apparent roles that the varying characters were meant to fill. This was amplified by the fact that the enemies were actually kind of clever and their spawn placement allowed them to constantly flank me.
I did choose the sniper character, who is physically weaker, thinking that I could pick off enemies at a distance. While this was true for the first couple, the other were immediately alerted and I quickly become overwhelmed. This is obviously where a short to mid ranged ally with a lot of health would come in handy.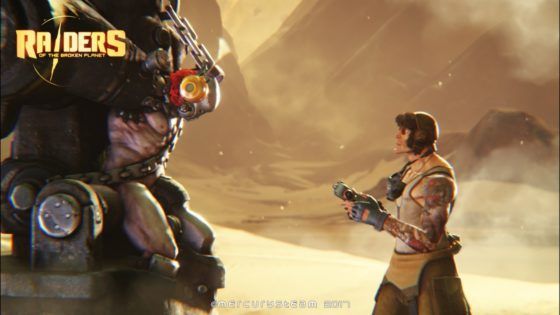 One of the other interesting mechanics of Raiders of the Broken Planet is that another player can take on the role of the antagonist in a 4v1 scenario. Now this isn't quite the same as something like Evolve where the enemy fills a boss role. Instead, he chooses from the same pool of characters as everyone else and can die just like the other players. His role is simply to supplement the AI and stop the other players from completing their objectives.
Despite not getting to test out the more interesting mechanics, I enjoyed what I did get to play of the campaign and found the innate difficulty to be refreshing. Hopefully, I'll have the chance to dive a little deeper with closed beta tests taking place later this year.
Next Gen Audio
While the "next generation" of consoles has been great for pushing game development and visuals to the next level, especially with the PS4 Pro and Xbox One X, there has been a lag in the peripheral department. Specifically, there has been a lack of a true wireless headset for the Xbox One. Well, LucidSound has finally found an answer with its LS35X, which will be the first officially licensed Xbox One headset that connects directly to the console without having to use cables or a base station; it will also be compatible with any Windows 10 PC. In order to deliver precision sound, the LS35X will use 50mm neodymium drivers and is compatible with Windows Sonic surround sound technology. I only got a quick test run with the LS35X, but what I experienced was crisp, clear and comfortable. Once these officially release later this year, we'll really be able to put them to the test.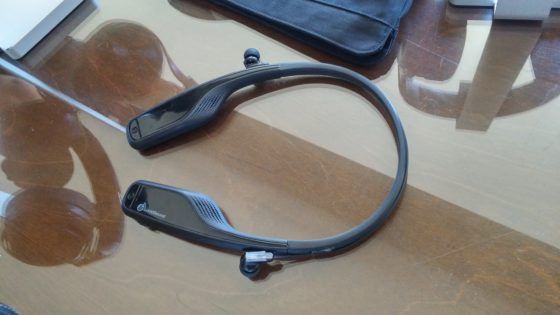 Two additional headsets were also recently unveiled. The first is the LS25 minimalist headset aimed at competitive gamers. All of the bells and whistles were stripped off in order to give eSports professionals clear audio quality without the extra fuss and keep the price low. Finally, one of the more interested pieces, is the LS15X In-Ear Contour Gaming Headset. What makes it unique is the fact that it rests around your neck instead of on your ears. Gamers can still hear what's going on in-game and the LS15X will only pick up their voice while ignoring any interference. This will be great for anyone who wants to communicate with their team or friends but still needs to hear what's going on outside of the game as well.
Finally, LucidSound introduced a limited edition Camo LS30 specifically for E3. It will be available exclusively at the 'Pro Vs GI Joe' booth, located at Booth Number #323 in the South Hall at a price of $180. A portion of the proceeds from each sale will go to support the US armed forces via the Joint Forces Initiative Charity.
"LucidSound is pleased to support the Joint Forces Initiative with this limited-edition headset," said Chris Von Huben, CEO of LucidSound. "Our exclusive LS30 headset comes complete with a unique camouflage design, only available at the show and in limited quantities, sure to become a highly coveted collector's item!"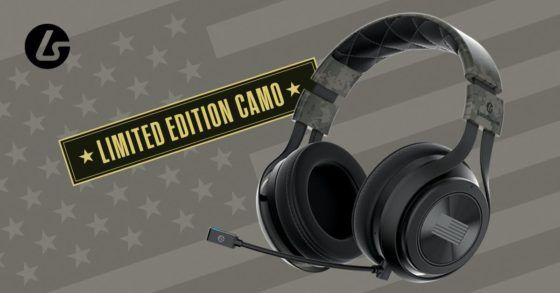 This wraps up the first day of coverage for E3 2017, and we're excited to see what the rest of the convention will bring. Let us know in the comments below which games you want to hear about and what has been the best part of E3 2017 so far!
Related:
Article
,
E3 2017
,
Fighter
,
Games
,
Gaming
,
Hardware
,
MMO
,
RPG
,
Shooter