While I was off celebrating Christmas weekend with friends and family, the Final Fantasy XIV dev team was putting on the second FanFest of 2016 in Japan. This time around, they released a slew of new information about features that players can look forward to in the Stormblood expansion.
The biggest news was, of course, the tentative release date and the pre-order sales date. As of right now, Stormblood is expected to release in Japan, North America and Europe on June 20, 2017. If you want to place a pre-order for the game, sales open up in a few weeks on January 24, 2017.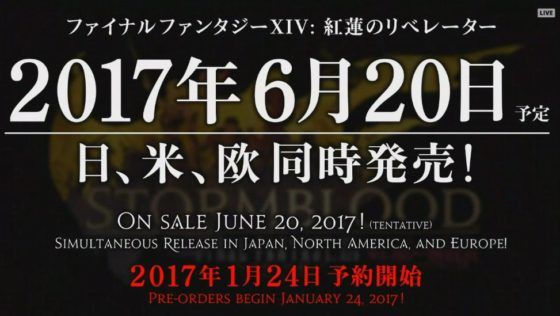 Between now and then, they've confirmed that we'll see two more major patches. This is actually just patch 3.5 broken into two parts, much like they did with patch 2.5 before Heavensward came out. These will include story updates, raids, dungeons and plenty of quality of life updates. The first of these patches will drop on January 17.
New Job: Red Mage
At the top of the list of the hyped new features are, of course, the new jobs that are coming with the expansion. We now know that Stormblood will only have two jobs, unlike Heavensward. Also, while Red Mage was announced as a new ranged DPS, there's no promise that the second job will be a tank or a healer.
Two DPS jobs? It's possible. We'll have to wait until the next FanFest to know for sure, though.
So what do we know about Red Mage?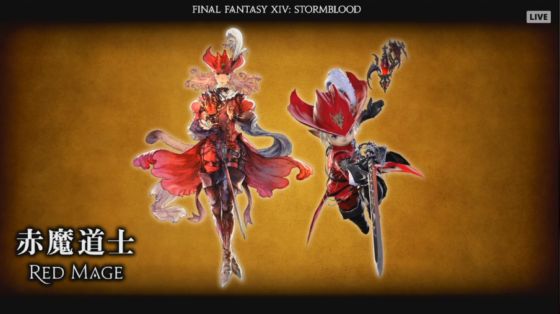 Well, as stated above, it's meant to be a hybrid melee and ranged magic DPS. The job's weaponset is a combination of a rapier and a magic crystal. In the released video, we saw the Red Mage teleport in close to attack with the sword, as well as use crystal-based magic attacks. These magic attacks are a Red Magic, which are a combination of white and black. There's also been a mention of "chain magic," which is something used to further empower magic attacks.
Red Mage will tentatively start at level 50. However, It's uncertain if it will share gear or stats with any existing jobs.
I'm personally really looking forward to trying out Red Mage as it was my starting job back when I fiddled around in FFXI. I've also always had a soft spot for the Red Mage outfit with its cool plumed hat!
I'm hoping that they take time to really plan out the new job, however. I know that sometimes hybrids can be difficult to balance. I have some concerns that they might get too excited and make it more complex than it needs to be. But I suppose this is something we'll have to wait and see.
Swimming and Diving
Back when Heavensward was released, we knew that Yoshi-P wanted to make an expansion theme around either flying or underwater travel. Since Heavensward got flying, it was no surprise to me that Stormblood will get swimming and underwater gameplay.
It's confirmed that there will only be swimming in certain areas. However, obvious places in the base game, such as Costa del Sol, will be included.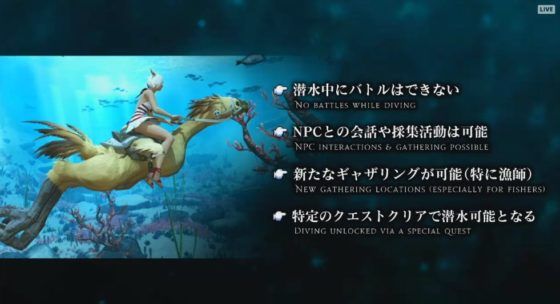 Mounts that can fly can also dive, but this will only be in 4.0 areas. Diving will be a mechanic you must use to progress through the Stormblood storyline. At this point, it doesn't look like you can drown while diving, which is nice.
Along with this, we'll be getting a new underwater beast tribe, the Ananta, which we can probably expect to get new beast tribe quests from in the future. Also, there seems to be an obvious focus on features for the Fisher job.
Upcoming Raids
Similar to the line of raids such as the Coil of Bahamut and Alexander, Stormblood will also feature a challenging 8-man series. This will focus around the story of the Omega Weapon, which also seems to be highlighted in the main scenario starting with patch 3.5. We've heard about Omega since back during the questlines in A Realm Reborn. But now, this weapon will come to the forefront in The Bend of Time raids. At this point, it's unknown if these raids will have a normal and a savage mode like Alexander did.
Following in the footsteps of The Crystal Tower and the Mhach series, Stormblood will include a new set of alliance raids as well. Interestingly, the team is bringing in guest creators Yasumi Matsuno and Keita Amemiya to help with the development. The name of this raid series is Return to Ivalice.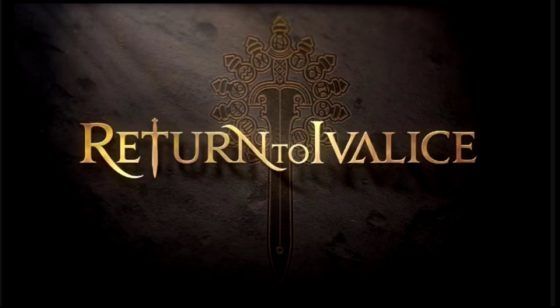 This, naturally, has stirred up a bit of excitement. Ivalice is the home world for the stories of Final Fantasy Tactics as well as Final Fantasy XII. FFXIV has always been more than generous with nostalgia in featuring much-loved throw-backs to many of the older Final Fantasy games. This will be the first time that we've seen the team work with guest creators to make this nostalgia a reality.
Stormblood Collector's Edition
Speaking of nostalgia, the collector's edition will include a number of items based off of Final Fantasy V. It looks like we'll probably be getting both a boxed collector's edition as well as a digital collector's edition, much like we saw with Heavensward.
The digital goodies include a Bartz minion, a Syldra underwater mount, and some chocobo cosmetic Red Mage items. It's unknown if the other unreleased job will also see cosmetic gear in the collector's edition.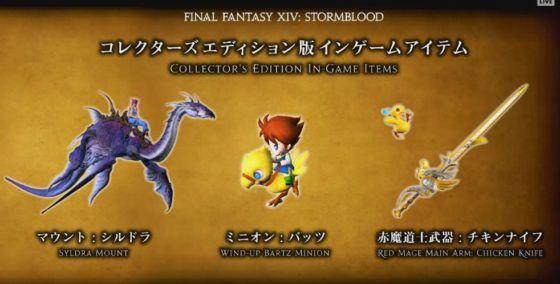 The physical collector's edition will include all the digital items along with a number of artsy items. You'll get Amano box artwork, an art book, a car decal and a cloth map. It's been a while since I've gotten a cloth map with a game, but I always appreciate neat collector's items like that.
The cost for the Stormblood pre-orders and collector's editions has not been released yet. I'll take a guess and estimate it at about what we saw Heavensward release for.
On top of that, we're sure to get a bit more information about Stormblood at the final European FanFest. The only hint we've been given for the second unannounced job is the Spiderman shirt that Yoshi-P wore to the Japanese FanFest. In reading over community feedback, there's a lot of speculation as to what it actually means. Unlike the Red Mage teaser, this one isn't so straight forward. I've seen everything guessed from Samurai to Blue Mage.
The only thing I can confirm is that it's going to be an exciting time watching the build-up of the new FFXIV expansion and bringing 3.0 to a close.
Related:
Column
,
Eorzean Evening Post
,
Final Fantasy
,
Final Fantasy XIV: A Realm Reborn
,
MMORPG