Welcome to the Community Spotlight column! This is a brand new column to run in conjunction with Echoes of Eorzea and aims to highlight and show appreciation to members of our community who go that extra mile to create content for us to enjoy, usually in their own time and for free. This week we will be talking to Oldbear Stormborn, the creator and Editor-in-Chief of the fan-created digital FFXIV magazine: The Moogle Post.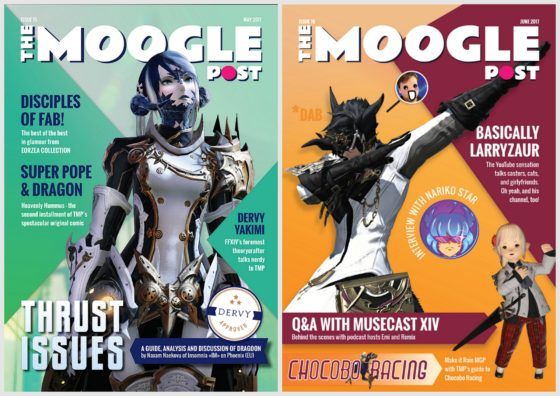 The Moogle Post, also referred to as TMP, is produced on a monthly basis and offers a whole host of information for your viewing pleasure. Content areas include interviews, game updates, glamour, cosplay, art, guides, competitions and a whole lot more. There really is something for everyone! All this is wrapped up in a striking and contemporary design that is very easy on the eye.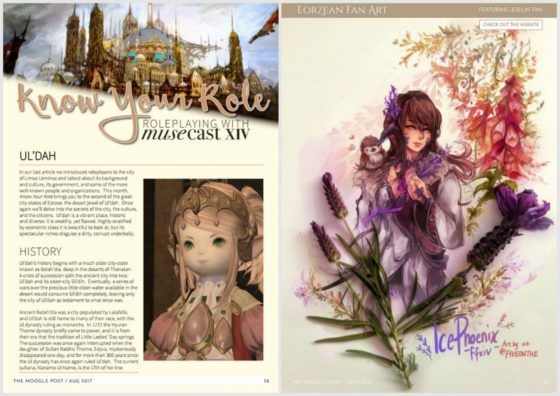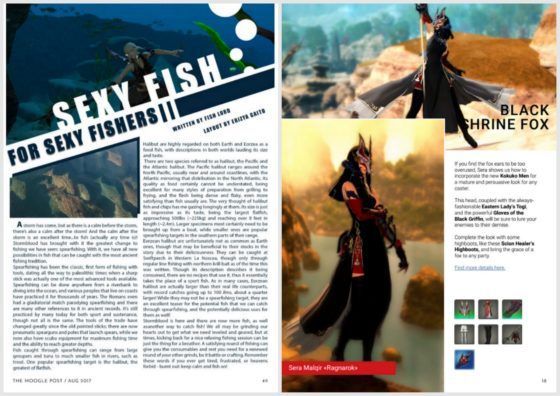 Oldbear not only runs things at TMP but also is a huge supporter of other content creators and makes efforts to reach out and include them in the TMP Discord server so that their work can be shared to the TMP community that is currently growing at a rapid pace.
A whole host of work goes into creating The Moogle Post so I personally would like to say a big thank you to Oldbear and his amazing team for creating this and providing us with such an informative newsletter.
More information can be found on their website MoogleMedia.com.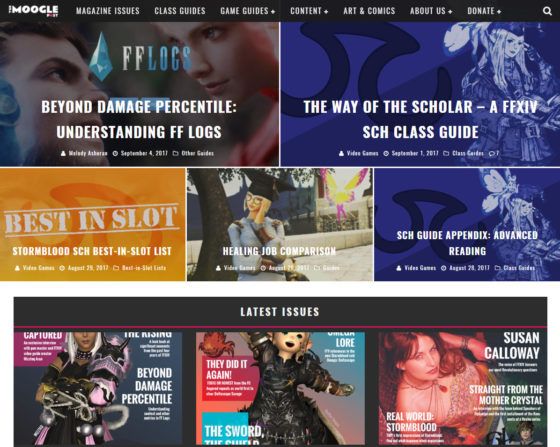 Question Time
Each issue of the community spotlight will comprise of a short list of question aimed at getting to know more about the people behind the content, what inspires them, how the content is created and what their interests are within FFXIV.
How long have you played FFXIV and why did you begin?
Almost 4 years now. I've always been a fan of MMOs and of the Final Fantasy series.
Why did you choose this race/job?
I've always loved tanking and really enjoy the WAR playstyle. It's active and versatile and it's fun to try to optimize your beast gauge usage to maximize your damage. I recently switched to lalafell after years as a midlander male. I don't really love any of the male character models in this game, so I figured I might as well be cute!
What aspect of the game do you enjoy the most?
Savage raiding. Definitely.
What aspect of the game do you enjoy the least?
I'm sure people will hate me for saying this, but I'm not really a fan of the main story. I love MMOs, but if I want story I'd rather play single-player games. MMO story isn't about amazing writing – it's about writing plot that fits your content delivery model. I get it, and I'm not saying FFXIV does it poorly, it's just really not my thing.
What was your inspiration for creating your first FFXIV related content?
The Moogle Post started out as a humble FC newsletter! We simply wanted to keep our FC members informed and entertain, and had no idea that anyone outside the FC would ever actually want to read it.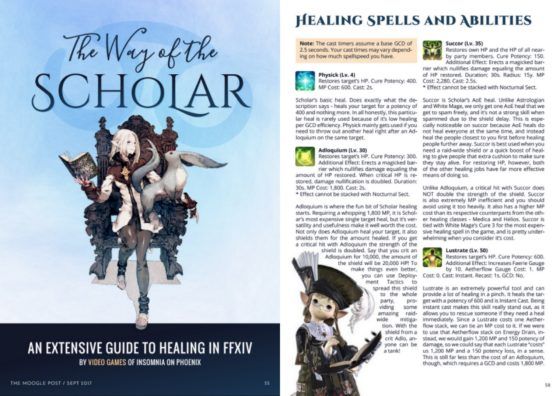 Is FFXIV your main source of creativity, or do you do content creation for other games (or other things entirely) as well?
I'm an aspiring writer, and initially hoped that working on TMP would help hone those skills, but now I write about FFXIV almost exclusively.
How long have you been producing content (including more specifically FFXIV)?
Since March 2016, so a year and a half.
Which creation of yours are you most proud of?
Myself and several other members of the TMP team were able to go to Frankfurt for EU Fan Fest, and we brought 1,000 printed copies of a special edition Fan Fest issue with us, which we handed out for free.
When you have difficult days, what drives you to keep producing content?
We release new issues on the first of every month, so the calendar pretty much forces me to keep going!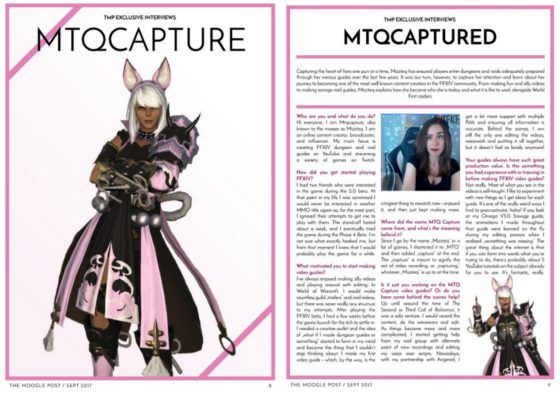 When it comes to preparing your work, what processes do you go through?
Each issue contains recurring content that's included in every issue, and a number of one-off pieces. I'm mainly involved in the interviews, class guides, and other one-off content. That involves everything from coming up with the ideas in the first place to managing the process and making sure the final product that goes in the magazine is the highest quality it can be. We have a pretty extensive team involved now, 30+ people from 7 different countries, each with their own roles and responsibilities. It's definitely a team effort!
What programs or tools are used to create your work?
The magazine is produced in Adobe InDesign. The designers also use other Adobe products like Illustrator and Photoshop to produce the screenshots and other artwork that appear in the magazine.
What aspirations do you have for your FFXIV work?
Ultimately we're just happy to be able to give back to the amazing FFXIV community that we all love so much! We want to produce high-quality content that FFXIV fans will enjoy and reach as many people as possible. Obviously, if Square Enix wanted to hire us and make The Moogle Post an official FFXIV fan magazine we'd gladly agree – but we're certainly not expecting anything like that to happen.
How well do you feel your work has been received by the community?
The community response has definitely exceeded even our wildest expectations! As I said earlier, initially The Moogle Post was just a humble FC newsletter, and we never imagined that anyone outside our FC would want to read it. Now we get over 30,000 visitors a month to our website, and are thrilled that we're able to entertain so many fellow FFXIV fans.
The most recent issue of TMP can be found here!

The Moogle Post can also be found on Twitter, so follow along for the latest updates!
Once again, I'd like to thank Oldbear for taking the time to share his thoughts on the game with us. I think I can say with certainty that we're all looking forward to the October issue of The Moogle Post!

If you have any questions or comments please don't hesitate to get in contact either through here, Anook or Twitter.
Related:
Column
,
FFXIV Community Spotlight
,
Final Fantasy XIV
,
MMORPG
,
Square Enix