Guardians of Ember is an upcoming action role-playing game that utilizes aspects of the traditional MMORPG. There will be more than 60 dungeons, hundreds of skills, and vast open-world PvE content. We recently had the chance to sit down with the Guardians of Ember team to discuss the development of their game.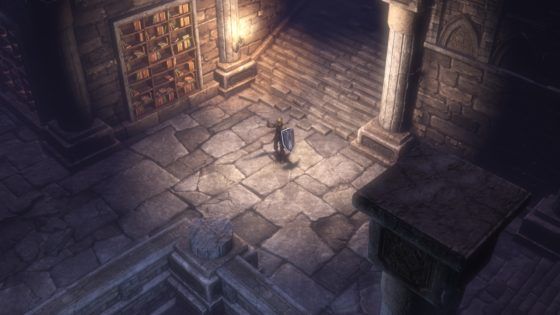 First off, can you please introduce yourself and explain your role with Guardians of Ember?
Hey Nick. I am Tadek, the Product Manager for Guardians of Ember.
I am the person who coordinates all the different tasks and departments… this is why I find myself involved in developer communication, community management, IT issues… everything, really. 🙂
What is Guardians of Ember and what is the overall story behind the game?
GoE is a Hack'n'slash MMO, which combines ARPG and persistent online worlds like Runes of Magic and World of Warcraft.
As a Guardian of Ember, the player defends the Empire against evil forces. To put an end to the ongoing threat, the player tries to eventually reclaim the Holy Ember, a sacred artifact and the only weapon that will restore peace to the world.
How will it be different than other hack and slash online games?
The development studio Runewaker developed Runes of Magic, an award winning MMO which many people praised as the best WoW Free 2 Play alternative. Thanks to their experience we are in a great situation. We have a lot of features that you know from regular MMORPGs including but not limited to guilds, housing, crafting, enchanting, fishing etc.
A unique feature I want to highlight is the great character customization possibilities as well as the Dual Class system, which allows you to create your very own character – thanks to the hundreds of skills there are countless ways to individualize your character to fit your very own playstyle. Furthermore, the player is able to adapt to different situations like facing a special boss, dungeon, PvP fight or being part of a group.
What interesting new game mechanics can we expect to see once Guardians of Ember becomes available to the public?
Although we have a lot of unique game mechanics like the Dual Class system and the housing feature, from my perspective the most important message is: Guardians of Ember is a game like grandma's apple pie: You miss it and you love it when it's on your plate! We have all the MMO features that we always wanted to have in an ARPG as players… I really believe that the mix of good features is what makes GoE unique.
How will randomized dungeons work and contribute to the overall balance of the game?
Most of the dungeons in Guardians of Ember are randomly generated when the player enters them, story dungeons are an exception. Of course every dungeon contains the necessary monsters for the quests and the bosses are predefined, but the map is always randomized.
From our perspective it doesn't affect the balance of the game, but offers a great replayability factor and makes grinding dungeons much more enjoyable.
What types of endgame scenarios can players expect? Will there be raids, structured PvP, etc?
We already included unranked and custom PvP matches (arena style; 3v3) and the endgame dungeons are really challenging if you check out the higher difficulty settings which definitely require a specialized team: Although GoE is an ARPG, you definitely have the experience you get from dungeon runs in MMORPGs.
We'll release the game with Act 1 and 2 only but we are already translating Act 3, 4 and 5 at the moment. At the same time we are working on a 5v5 arena mode as well as a PvE horde mode.
When can players expect Guardians of Ember to be available for Early Access?
We carried out some technical tests over the last couple of weeks and have evaluated the feedback. After fixing some major bugs, changing some of the features and and rebalancing aspects of gameplay based on the community's feedback, we are now satisfied with the overall performance and state of the game to begin Early Access on December 13th.

What classes will be available during Early Access and what play styles will they fulfill?
During Early Access the Knight, Ranger, Priest, Arcanist and Engineer are available.
Although all of them are definitely able to work as a damage dealer, all of them are perfectly suitable to play a valuable support role when you play together in a team.
Thanks to the Dual Class system it is even possible to create a tank with your Priest or Arcanist or act as a healer with your Knight. 🙂
Are you planning any additional classes once the game has entered beta or is officially launched?
We plan to add the Death Knight during Early Access. We are currently working on balancing this class and we will add it once we finished overhauling the stats.
What type of payment models are you planning to include? If there's going to be a cash shop, how much of an advantage will paying players have?
If you want to enter the world of Olyndale you have to buy the game via Steam.
We offer a basic version, the Mortal Edition for 20USD as well as a collectors edition, the Immortal Edition for 50USD.
Due to the fact that Guardians of Ember is more of a game service with regular updates – both bug-fixes and added content – we also add an item shop for people who want to support the game long term. This shop allows the players to buy what we call Loot Orbs that are similar to Loot Chests in Overwatch – but you can also gain Loot Orbs by simply playing the game, too. The contents of the Loot Orbs are randomized and besides some unique costumes, which don't have any stats, they contain boosters and convenience items.
There are a few other games that have tried the MMO Diablo-style, such as ELOA and Devilian for example. Have you learned anything from similar games that have already been released?
We are all well aware, that the monetisation model is a crucial part of any game when it comes to its success and a healthy community. In the last couple of months we have had a lot of discussions with our community who shared their concerns about Guardians of Ember becoming Pay to Win title as a consequence of the item shop.
We are all gamers by heart and we understand that a game like Guardians of Ember can only succeed  with a healthy community. Based on the community's feedback we designed the cash shop very carefully and, although you might gain some convenience from using the shop, we excluded all elements that we identified as pay to win.
We are very happy that a lot of players are fine with our approach to add convenience items like boosters or mounts to the item shop, because they know, that we are also giving the possibility to find all these by playing the game, too. You can find more information about this topic here.
Were there any influences from your previous games Dragon's Prophet or Runes of Magic?
Runewaker has a lot of experience designing online games and of course we are really happy that they use this experience to create a game with a great feature set. An ARPG with a guild system, housing, PVP arena, dual class system… we are happy that Runewaker included these into GoE, too.
I appreciate you taking the time to discuss Guardians of Ember with me. Is there anything else you would like our readers to know?
Thank you Nick.
We are working very hard to deliver a great experience while taking the community feedback very seriously. But as a small indie publisher everything can take time – it would be great if we get this time and patience from the community during EA! 🙂
Related:
Action RPG
,
Early Access
,
Guardians of Ember
,
Interview
,
PvE
,
PvP
,
Steam