SK Telecom T1 made League of Legends history this weekend as the first team to enter the World finals undefeated. The team has showed consistent gameplay throughout the tournament with overwhelming victory after victory. So far, there simply hasn't been a team that's performed even close to their level. Will the same hold true for the finals, and is SKT simply unbeatable?
Korean Showdown
For the first time ever, there will be two Korean teams fighting for the championship title. Although many fans expected SKT to perform well at the League of Legends World Championship this year, the KOO Tigers did not hold the same amount of respect. In the official power rankings, created by Frank 'Riot Mirhi' Fields, the KOO Tigers were placed in Tier B. Overall, they were noted as a respectable team, but not likely to advance past the quarterfinals and only expected to go that far due to placement in the weakest group.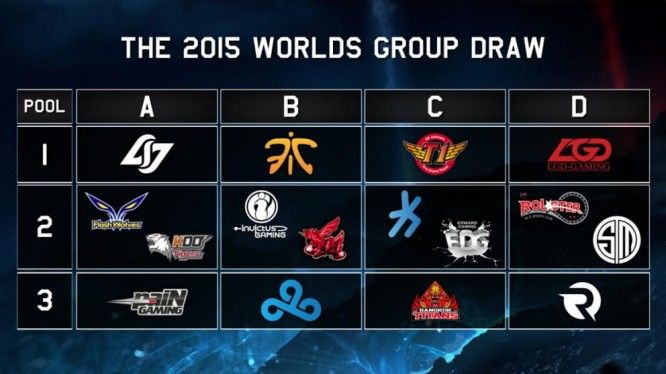 Riot Mirhi claimed that their talent was simply not on the level of the premiere teams such as Edward Gaming, LGD Gaming, or SKT, and they wouldn't make it far "unless the Tigers ascend to an unknown ability level." Clearly that is the case this year, as KOO not only made it to the finals, but knocked out Europe's final team Fnatic in the process. It doesn't look like KOO has been riding on luck throughout this tournament either, with a decent performance during the grouping round and a 3-1 victory over the favored KT Rolster.
Regardless of how surprising KOO's performance has been so far, the real story is with SKT. With one of the strongest rosters in history, for a very tough Korean eSports scene, SKT was already expected to perform well at Worlds 2015, but no one quite anticipated a perfect showing. Slotted in Group C with other top tier team EDG, SKT simply strolled through the round without much real competition. SKT then moved on to sweep both ahq e-Sports Club and Origen in the quarterfinals and semifinals respectively. As of now, no other team in history has ever gone 12-0 at the League of Legends World Championship, and they're looking to make it 15-0.
The Winning Combination
SKT is no stranger to winning and dominated the Chinese Royal Club 3-0 at the League of Legends World Championship 2013. This year, the team looked to be set up with another winning combination of key players and a premiere organization. Up until this point, things couldn't have gone much smoother for SKT. They took first at the 2015 LCK Spring Playoffs, second at the Mid-Season Invitational (losing to EDG 2-3), and winning both the LCK Summer Split and Summer Playoffs.
The team this time around is far different from the one that won the title in 2013. A new league format implemented by the Korea e-Sports Association created a number of additional rules for players and organizations. This saw many Korean players either leaving the scene or migrating to Chinese teams. However, fan favorite mid-laner Lee 'Faker' Sang-hyeok decided to stick it out as SK Telecom T1 K merged with sister club SK Telecom T1 S. Considered one of the best League of Legends players in the entire world, Faker now has to share his lane with Lee 'Easyhoon' Ji-hoon. Since then, high-profile players Jung "Impact" Eon-yeong and Lee "Piccaboo" Jong-Beom have also left the team, joining Team Impulse and KT Rolster respectively.
Semifinals Recap
Origen was considered a bit of a Cinderella story with this being the team's first year in LCS after being founded by former Fnatic mid-laner Enrique "xPeke" Cedeño Martínez. That being said, not many people expected them to make it far in Worlds, let alone the semifinals. The team had a rough Group B bracket, placed against Fnatic, Cloud9 and Invictus Gaming. However, xPeke was able to lead them to a second place finish in the grouping stage and take out Flash Wolves 3-1 in the Quarterfinals. Even with a very impressive showing, this is where the dream ended.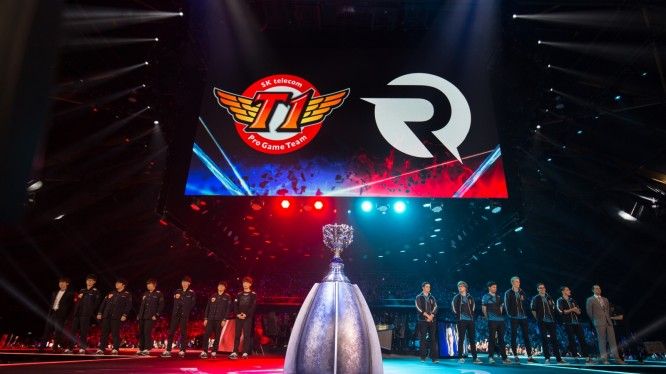 SKT went in full of confidence and didn't even let the underdogs take a single win. The first game was actually a bit of a contest, and Origen managed a slight gold lead near the 11-minute mark. Bengi, playing Jarvan IV, helped secure first blood for SKT, which MaRin got the credit for, with a gank on Soaz's Kennen. MaRin grabbed a second kill on Soaz a few minutes later while a bottom lane fight ended evenly for both sides.
Things went back and forth for a majority of the mid-game. At around 25 minutes, Origen was able to sneak a Baron kill and secure the tier 2 towers, gaining a 3k gold lead. SKT answered at the 33-minute mark with their own Baron, which allowed them to take a kill, a Dragon, and three turrets. Finally, at 40 minutes in, SKT won a fight that allowed them to take out Origen's first inhibitor and then they grabbed the Baron buff to push into Origen's base and end the game.
The next two matches weren't nearly as dramatic. In Game 2, Origen secured a pre-minion wave kill on MaRin, but SKT answered it back with an early kill on Mithy. Around 23 minutes in, Origen attempted a risky drive against MaRin, but SKT countered and killed 4 Origen players. After that they moved to secure an early Baron and never looked back. The final match was even more one-sided. SKT grabbed an early lead and never let up. At 16 minutes, SKT secured a number of kills to gain a 4k gold lead and made that 10k by 25 minutes in. Game 3 lasted just shy of 26 minutes, which was the shortest match of the contest by far.
Who's Going To Win?
Anything could happen at the League of Legends World Championship finals this year, but looking back on history can give us an idea on what to expect. The KOO Tigers did perform well at the 2015 LCK Spring Playoffs, Summer Split and Summer Playoffs, but simply not as well as SK Telecom T1. Their best placement was second in the Spring Playoffs, where they lost to SKT in the finals.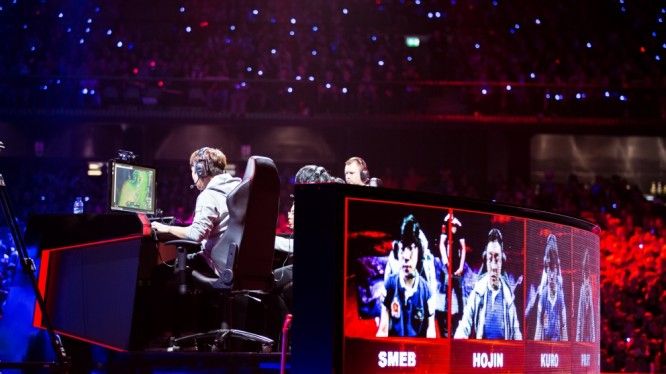 It does seem like KOO has stepped up their game since Worlds began, but SKT has simply been invincible all year long and they've shown dominance throughout the 2015 season. That doesn't mean it's impossible for KOO to pull off a victory here, but the chances are incredibly slim. I don't doubt that KOO will take at least one win during the series, however, all bets should be on SKT to win it all.
Related:
Column
,
eSports
,
League of Legends
,
MOBA
,
MOBA Monday
,
Worlds 2015