As we suspected in a previous Play of the Fortnight, the most recent update brought the Overwatch Winter Wonderland event. As with previous seasonal events, Blizzard has added a bunch of festive skins and other unlocks, along with an exclusive new game mode to the Arcade. The Winter Wonderland event went live in Tuesday evening's patch and will run through until Monday, January 2nd.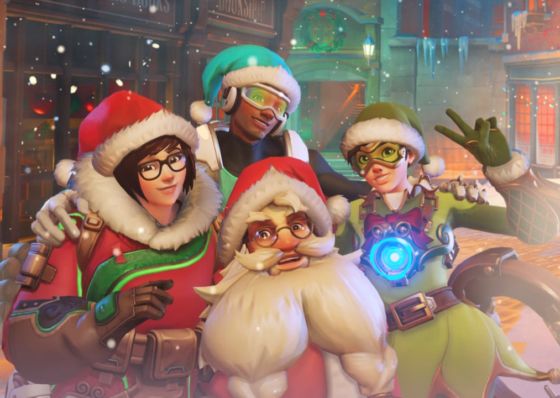 So if you've been too busy to battle it out in the snowy arena yet, here is all you need to know about the Overwatch Winter Wonderland event!
Brand New Seasonal Game Mode – Mei's Snowball Offensive
Everyone enjoyed the Halloween game mode, Dr. Junkenstein's Revenge, so much that the community was almost unanimously hoping for a repeat performance with something new for the upcoming event. Blizzard did not disappoint!
In the Arcade, players can find Mei's Snowball Offensive, which is a fun game mode that takes place on the Antarctica map. It's 6v6, and players all play as Mei, but with a slight twist. You will have only one round in your gun, and it shoots in an arc like throwing a snowball. To reload, players need to locate piles of fresh snow and hold secondary-fire to load up on snow. Mei's other abilities remain, but her ultimate has been replaced with a Flurry,where she can shoot an unlimited amount of snowballs until it wears off.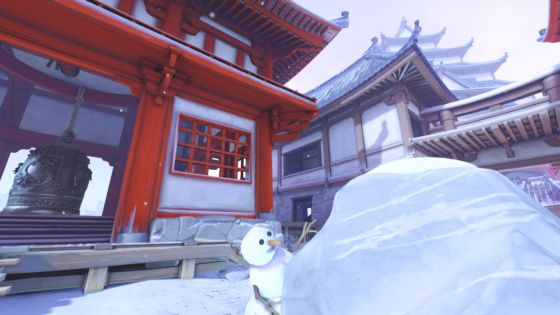 Blizzard also modified the 6v6 mystery mode to add Winter Mystery, where players are given random heroes as normal but only fight on two maps. King's Row and Hanamura have both been dusted with snow for the Winter Wonderland event.
As always, the Arcade gives a free loot box for your first win in each new game mode, and players can earn up to three additional loot boxes by winning games there. This is an excellent way to earn extra Winter Wonderland loot boxes and unlock all that delicious exclusive event loot!
Winter Wonderland Loot Boxes
As with previous events, loot boxes have been replaced with a more seasonal equivalent. Players get one winter loot box for free, and every loot box earned throughout the event will be wrapped like a gift you might find underneath your Christmas tree.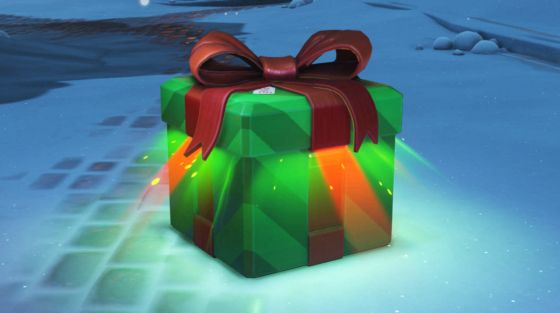 Loot boxes during the event contain at least one event unlock. This could be an exclusive skin, voice line, highlight intro, emote, spray, or player icon. The event brings over 100 new event items. All of them are themed along the Christmas and winter aesthetic, so there's something for every taste.
All the new items can be unlocked with loot boxes (either earned or purchased), or bought with credits in the Hero Gallery. But keep in mind you can only buy the event items during the event, after that they will become locked again! As with previous events, the unlocks cost much more than their non-seasonal equivalents at 3,000 credits.
Exclusive Winter Wonderland Skins
Of course, it wouldn't be a seasonal event without new, unique skins for the Overwatch heroes. For the Winter Wonderland event, we got 12 new skins that can be unlocked through loot boxes or purchasing in the Hero Gallery. These heroes are Lucio, McCree, Mei, Pharah, Reaper, Roadhog, Sombra, Torbjorn, Tracer, Winston, Zarya, and Zenyatta. Some of these are a bit of a surprise. For example, Tracer already has a lot of skins, and Pharah, Reaper and Zenyatta all got skins during the Halloween event as well.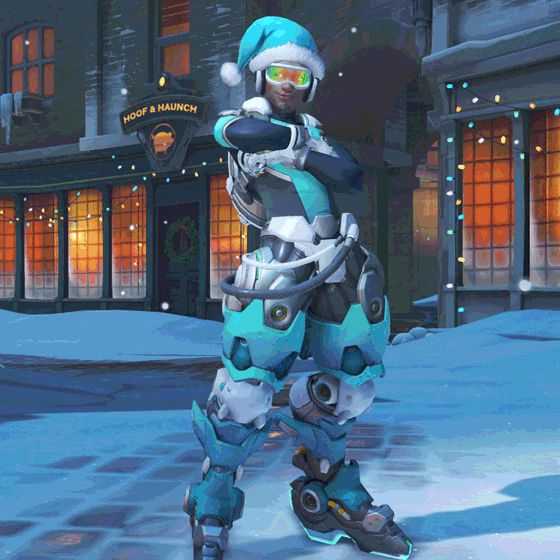 Some of the skins are Christmas related, whereas others have stuck with a more neutral, wintery feel. Of the lot, the only one I feel is a bit disappointing is the Zarya skin, as it's very plain and resembles one of Soldier-76's existing skins. The rest all look in-character and seriously cute. Or, in the case of Pharah and Reaper, somewhat cold and terrifying!
Additional Content to Unlock
There is other content that has been given a festive makeover. There are a lot of victory poses with characters holding up mugs of hot cocoa (or, in Ana's case, probably tea) and with festive decorations such as D.Va's mech decorated with Christmas lights. Zarya, Mei and McCree also have themed emotes for players to unlock.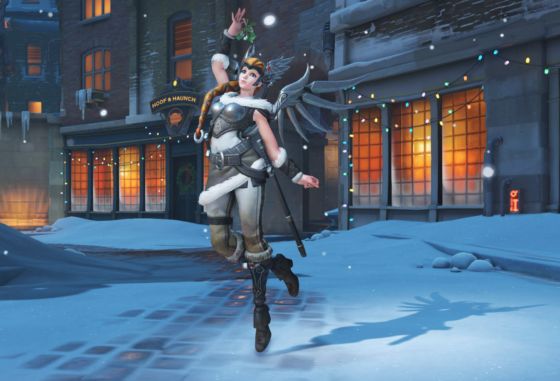 There are a few references to mistletoe as well: Mercy has a victory pose with her holding mistletoe expectantly over her head, whereas Widowmaker went the other direction with a very aggressive use of mistletoe to lure her enemies in for the kill in a highlight intro.
We can't forget the voice lines either. For a start, I got the "Ho, ho, ho!" line I was hoping for! It was given to Roadhog rather than Reinhardt as I'd thought it would, but somehow it suits the character even more. Especially so if you're also using his seasonal reindeer skin, complete with glowing red nose…on his belly button.
And of course, there is a whole host of player icons and sprays that are either Christmas themed, with stockings and trees, or winter themed, with snowballs and snowmen.
Our Predictions vs Reality
In a previous Play of the Fortnight, we asked "What could an Overwatch Christmas event look like?" In this, we theorized on potential skins and other unlocks, along with what Blizzard's new game mode might look like if they continued that trend from Halloween. So how did the predictions line up with what actually happened in the Overwatch Winter Wonderland event?
We talked about a potential snowball fight game mode, which has come in the form of Mei's Snowball Offensive. It's a bit more aggressive than I expected, but the theme is still there. Players fling snowballs across a snowy terrain at each other, in an all-out snowball battle.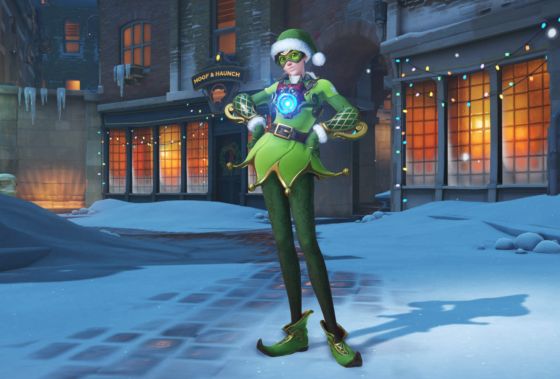 With regards to skins, my predictions were a little off. Helper Elf Tracer happened as her Jingle skin, and Roadhog did get a Christmas themed skin, but it was a reindeer rather than Santa. I won't take credit for the Torbjorn one though. Blizzard dropped some major hints about that with their released artwork in 2014! I'm sad that we didn't get someone in a terrible looking Christmas sweater (looking at you, Soldier-76!)
What does this mean for future events?
There's plenty of room for new things to be brought to Overwatch during events. There are a lot of ideas for other skins that might fit a winter or festive theme. For example, the Mrs Claus Mercy or Junkrat using bauble grenades. We also didn't see Christmas gifting, which could still make it into an event in the future. What better way to celebrate the season of giving than by gifting your friends some loot boxes with exclusive seasonal content, right?
We're also now starting to see a pattern in the start date and time of events, as well as their durations. On top of that, two events in a row now they've given us 12 skins, each for a different hero. Hopefully this means we can expect around the same level of content for future events.
The big question now is, what other events might Blizzard choose to bring to Overwatch? Will we see Chinese New Year, or will our next event be Valentine's Day? Do we have some seriously creepy Easter Bunny skins to look forward to? It'll be interesting to see what else the Overwatch team comes up with!
Conclusion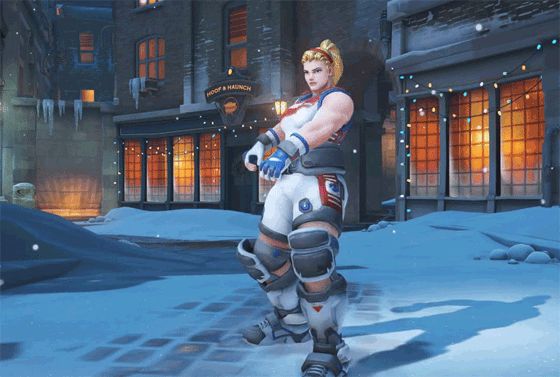 The Winter Wonderland event is here until January 2nd. Make sure you hop onto the frostbitten battlefield to start earning your loot boxes and unlocking that content! Make sure you don't get hit in the face by too many Mei snowballs while you're at it…
What's your favorite piece of content from the Overwatch Winter Wonderland event? Let us know in the comments!
Related:
Blizzard Entertainment
,
Column
,
Overwatch
,
Play of the Fortnight
,
Seasonal Event
,
Shooter