There are a few things the Guild Wars 2 community misses. Some of those things have been high on our wishlist since the release of the game. The ones that I talk about today are just a few of the many. Some of those might have been on your wishlist as well.
Saving PvP Builds
One of the best things about the original Guild Wars was that you were able to save your build templates and share the codes with your friends. This feature made Guild Wars easier for me since I started playing around 2005. People had already figured out good builds for the various types of content, all I needed to do was make sure I captured the skills. Since I knew which elite skills I needed, I could hunt them before trying the harder content.
The new PvP build screen is already a large improvement. It's also the perfect foundation for those templates. All we need for selecting the right build now is a save button and an extra tab instead of a drop down menu. They added a drop down menu to select a build, except that it's just two and you can't see what's different unless you switch tabs. It could be much easier, right?
The new build screen allowed us to get rid of the PvP armor set. Now you're just left with your PvE armor, Dungeon armor, Raid armor and WvW armor. Maybe we can get builds for those too? Probably not, since the non-PvP game modes do take into account that people have different gear. PvP wouldn't be fair if one had full ascended, or soon legendary armor, and another was playing with all whites. It also defeats the purpose of being able to jump into PvP right after you've created your character. The other game modes are made to be played at different stages of play, that's why I don't really mind that we don't get the same build template as in PvP for the other game modes.
I do wish that we could have templates for skills and weapons. I know the current specializations make it easier with skill trees than most other games that require you to go through all of them and select the ones you want. Now you just have to remember the sequence for each specialization and the skills. More often than not, I'll cheat and have the build up on my second screen when I want to try something different.
Inventory Management
One of the things that keeps MMO players busy is inventory management. Often your inventory is overloaded with loot that you 'might need later'. Guild Wars 2 already has a material deposit button and the copper/silver-fed salvage-o-matics are a blessing since they salvage multiple things at once. The permanent harvesting tools also reduce the clutter of having to carry additional tools. Aside from the material deposit button, all the other options for better inventory management have to be paid with gems. Should you need extra bank space you might consider creating your own guild just for the guild stash. But a few small features will make inventory management even better.
A stack is 'just' a quantity of 250. That's reasonable, yes, but not when you need 1000+ of one type of currency. What if you're not the type of person who has a dozen alts? One for each map with it's own tools. I have one main which I use for every type of content. She has crowbars, many, many keys, and all of the currencies. I had to buy more bag space just to fit all of that in, and that's all excluding the loot I'd get from doing a meta event. You know how horrible doing the Battle of Tarir was? Especially if it was successful. I'd be the girl who had to clear out their inventory after opening three chests. The third chest would overflow my inventory. The salvage with my Copper-fed salvage-o-matic would stop after one because my inventory is already full. So it's salvage, deposit materials, salvage, deposit materials. If I'm unlucky I'll get sigils as well. I have to destroy those, just to make room.
Equip Trinket to Left/Right Slot
We have two slots for earrings, rings, and accessories, but if we select a trinket and equip it, it's always the left slot. Why? It's not just Guild Wars 2 that has this problem, either. It would make more sense if the trinket replaces the lesser trinket instead of just the default left one. Or give us the option to choose which slot we equip the trinket and include a view that allows us to see which trinket we have currently equipped in each slot.
More Inclusive Wallet
You know those girls or women with a giant wallet filled with all their loyalty cards, credits cards, cash, coupons, etc.? Yes, that's what we want. We want one place where we can store all of our currency, and that includes map exclusive currency. Inventory space is precious. Putting all the map exclusive currencies into the wallet would save us so much space. There four maps with exclusive currencies right now, if we keep this up with a new map every episode and all of them have their own currency, it'll be more clutter.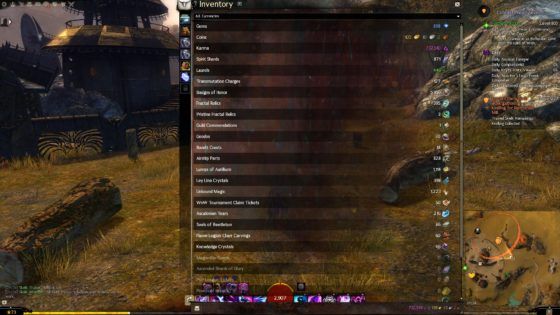 Keychain
Guild Wars used to have keys for each specifics region. In Guild Wars 2 we now have other tools as well as keys; crowbars, shovels, acid, etc. We have so many tools for unlocking map specific chests/containers and they're all taking up space.
I'd pay for an extra wallet or 'keychain' just to store all those items. That would be another ten slots saved. The keychain should be account wide and available at any moment. This could save us trips to a bank just to get all map appropriate items before we're going to participate.
What are the features in Guild Wars 2 that you're missing the most? Do you have an alternative idea for the features mentioned above? Share your thoughts with us in the comments below!
Related:
ArenaNet
,
Column
,
Guild Wars 2
,
MMORPG
,
The Tyrian Chronicle