It has been confirmed that an Overwatch character has autism. It has been speculated for some time that Symmetra is on the autism spectrum thanks to a comment she made in the comic that was focused on her titled A Better World. In it she says; "Asking where I fit on the spectrum, it used to bother me. Because I knew it was true. It doesn't bother me anymore. Because I can do things nobody else can do."
This statement resonated with Overwatch fans who have been speculating on what it really meant without any official confirmation. Replying to a fan letter Jeff Kaplan, the Game Director for Overwatch confirmed that she does indeed have autism, adding that she is also one of the most beloved heroes by the team at Blizzard.
The Overwatch team has been going to great lengths to make the heroes in Overwatch varied and as diverse as their audience. The heroes come from all around the world and don't follow one set standard for beauty. They have a large age range and all sorts of different abilities. In December it was also revealed in the holiday comic that Tracer, one of the most popular characters, is in a relationship with a woman.
Have a look at the letter where Jeff confirmed this fan theory: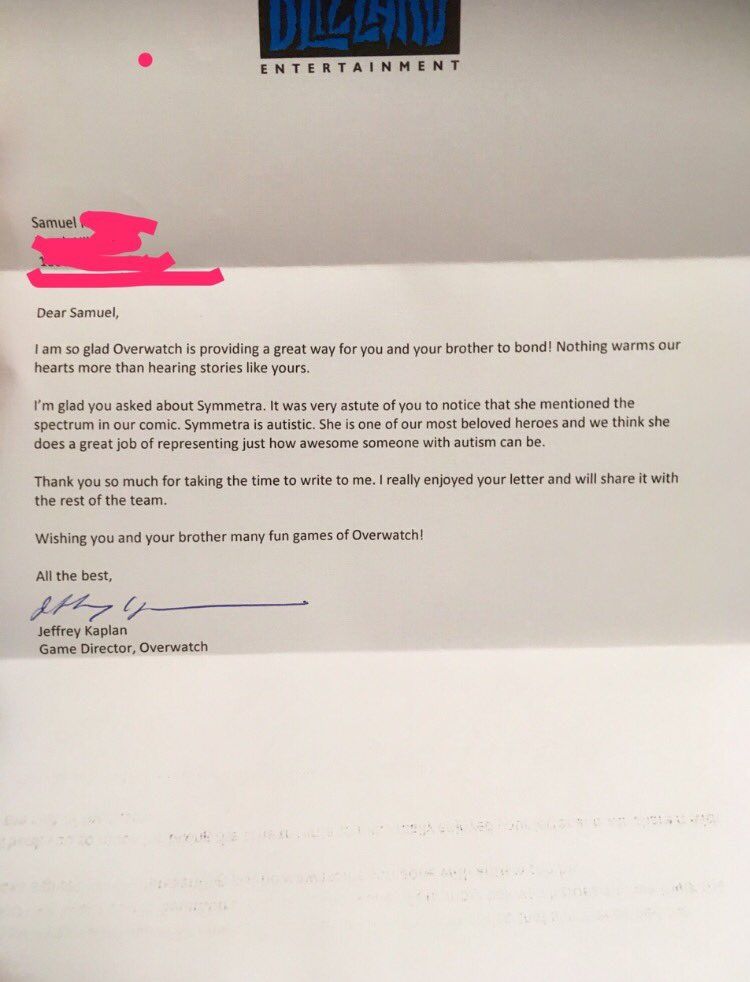 Our Thoughts
Blizzard's dedication to diversity needs to be applauded. They're doing an amazing job bringing representation to those who are underrepresented in gaming. I hope they continue with this fantastic work and serve as inspiration for more studios to follow in their footsteps.
Your Thoughts
Where else can Overwatch expand in their diversity? Do any of your favorite games feature characters with autism? Let us know what they are in the comments! We would love to show support for these games.
Related:
Blizzard
,
News
,
Overwatch
,
Real Life
,
Shooter