Camelot Unchained's C.U.B.E. system, the engine that lets players build their own structures, received a pretty significant improvement according to the game's weekly update. C.U.B.E. is now capable of round objects, giving builders more creative freedom.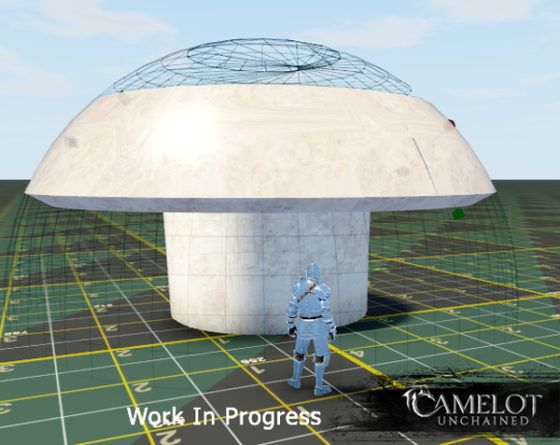 "Over the last two years, we have talked about how C.U.B.E. and the building portion of Camelot Unchained was not going to simply be a Minecraft clone," reads the update. To that end, C.U.B.E. now has morphing technology to allow for round objects to be created. The above image shows the tool being put through its paces, with a cylinder morph applied on the Z axis, and a second cylinder morph applied on the X axis.
The weekly update also offers up a peek at work on denser forests, combat animations and a list of other works-in-progress. The complete update can be found here.
Our Thoughts
Considering the building void left by the closure of Landmark, we're definitely happy to see that C.U.B.E. is making inroads at more varied and rounded objects. We hope this new update arrives to the system soon, because we can't wait to see what players are capable of!
Your Thoughts
What do you think about the new features of the C.U.B.E. engine? Was there any other part of the weekly update that stood out to you? Share your thoughts with us in the comments.
Source: official site
Articles Related to Camelot Unchained
City State Announces Camelot Unchained Discord Integration
Camelot Unchained Combat Prototype is in the Works
Backer Survey: Camelot Unchained
Related:
building
,
C.U.B.E.
,
Camelot Unchained
,
MMO
,
News
,
Update